Phil Spencer Confirms What We All Suspected About The Notorious Xbox Party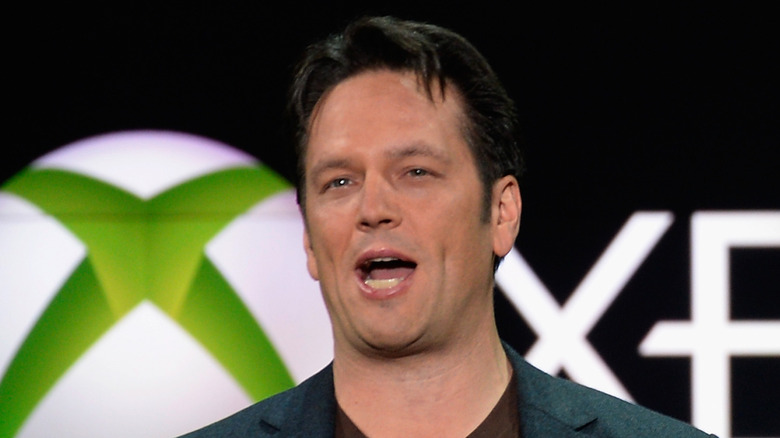 Kevork Djansezian/Getty Images
As the head of Xbox, Phil Spencer has amassed some good faith with the gaming community in recent years. Despite the debacle that was the Xbox One's initial launch, Spencer and Microsoft's work on the Xbox Series X and Xbox GamePass has led to the company's foray into the ninth generation of console gaming receiving critical acclaim. 
Advertisement
During his tenure with the company, Spencer has also made a push for a safer and more inviting workplace. Spencer even called out Activision Blizzard in a late 2021 email to his employees, responding to that company's failure to address its ongoing issues with harassment in the workplace, which drew the support of many gamers and industry figureheads. However, people haven't always felt comfortable with how things at Xbox are run, a fact that Spencer has revisited in a recent interview.
During an appearance on the "Sway" podcast, Spencer addressed many different topics, from the Series X's supply issues to popular video games such as "Halo" and "Fortnite." Spencer also discussed a notorious Xbox party that occurred in 2016, which was thrown to celebrate that year's Game Developers Conference (GDC). A number of scantily dressed women were hired to dance at this party, which caused some attendees to become uncomfortable and leave the event. In broaching the subject of the controversial shindig, Spencer also confirmed that it changed the way he does business.
Advertisement
Phil Spencer says that Xbox will not repeat the same mistakes in the future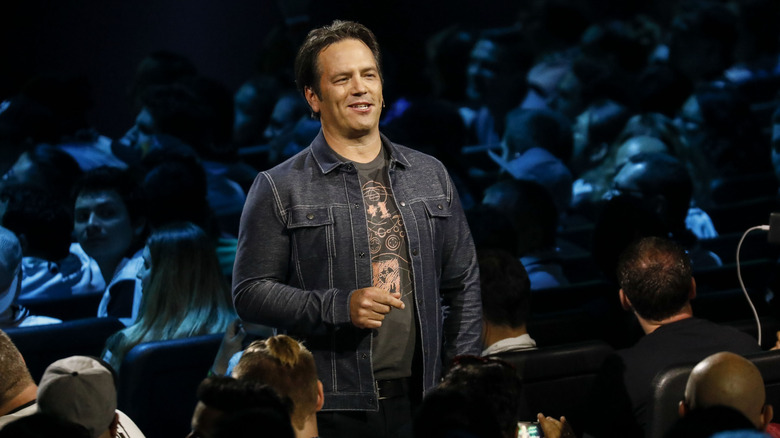 Bloomberg/Getty Images
In regards to the infamous 2016 Xbox party, Spencer expressed regret, calling it a "a painful moment" in the company's history that he would not dare repeat. "Some of the things that make me proud of that is how we came out of it, the work that we did as a team," Spencer told the NYT Sway Podcast. "I believe we are stronger now because of that event, not that I would choose to repeat that event if I had that choice."
Advertisement
Because of Xbox's history, Spencer also made it a point to not engage in public "virtue shaming" against Activision Blizzard, instead focusing internally on how to make his own company better. As he noted, Xbox did not have a perfect reputation, and so he feels it's not his place to cast judgement on other big brands in a public arena. Spencer championed diversity and representation within Xbox itself, saying that these components are "critical" to the company's long-term success and business dynamics. 
"The representation on our teams, who the voices are that are making decisions that are leading, is critical not only to our long term team dynamic but the long term business dynamic and those two things are tightly linked," said Spencer.
Advertisement
Spencer's vision seems to have paid off: 2021 marked one of Xbox's strongest years yet. According to Ampere Analysis, the company has sold over 6.7 million units of the Xbox Series X and S.