Overwatch 2 Graphics Theory Has Fans Seeing Red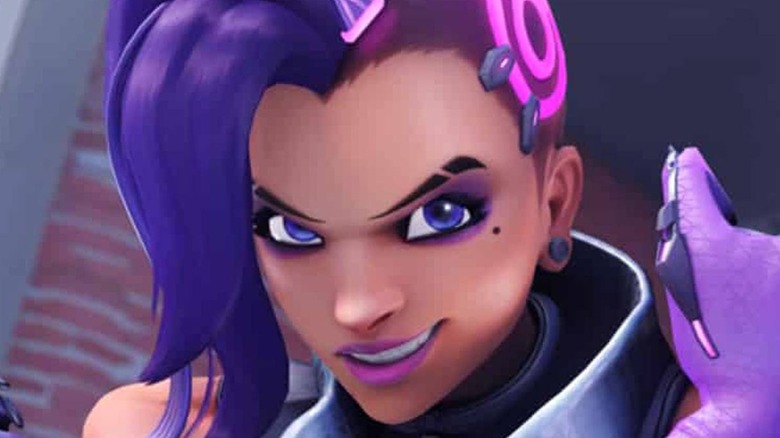 "Overwatch 2" has been one of gamers' most anticipated games ever since it was first announced back in 2019, and yet there is still no release date almost three years later. Fans got the terrible news that the game would take longer than the developers originally anticipated back in November, but there haven't been any updates since. Still, the first "Overwatch" has been one of the most successful titles in Blizzard's arsenal. It's a game that has generated over a billion dollars in in-game sales (via Win) and that has made waves in the esports and live-streaming communities alike. This new game has promised to change the series forever by including new game modes, revamping PvP, and adding new "Roll Passive" abilities that the developers believe will change the way the game is played. So, there's a good reason why many fans are still awaiting its arrival with bated breath.
Advertisement
Unfortunately, a new rumor has been circulating that suggests that "Overwatch 2" might not be everything fans had hoped for. After several screenshots from the new game began circulating, some have speculated that Blizzard intentionally simplified its designs in order to make "Overwatch 2" more compatible for mobile gaming.
Overwatch 2 looks made for mobile
It's no secret that Activision Blizzard has a shady side. The company has faced a series of serious allegations regarding sexual misconduct and harassment resulting in lawsuits, management layoffs, protests and employee walkouts. Still, at the end of the day, many fans hoped that the company would still put out a good game in "Overwatch 2."
Advertisement
A tweet from artist and animator @BixelsWixels featured several images that showcased how the mobile gaming rumor got started and why so many fans are concerned. The tweet read, "design differences between Overwatch 1 (on the right) and Overwatch 2 (on the left). Rumor has it they're "simplifying" designs because the game will be mobile compatible." The attached images featured screenshots of the same weapons being used in both games. The designs from the original "Overwatch" seem much more detailed and complex than the ones from "Overwatch 2." The tweet also featured a screenshot of a job posting for a Product Manager at Blizzard Entertainment "to help us create the best mobile gaming experiences in the world," with the post specifically naming "Diablo" and "Overwatch" as upcoming projects. This has led many fans to draw the conclusion that Blizzard is not only making a mobile version of the "Overwatch 2," but that it is intentionally simplifying the design in order to accommodate less powerful mobile hardware.
Advertisement
Hopefully, these rumors turn out to be baseless, but trust between Activision Blizzard and its fans seems to be growing even more precarious.