Doom 2 Gets First Official Level In Almost 30 Years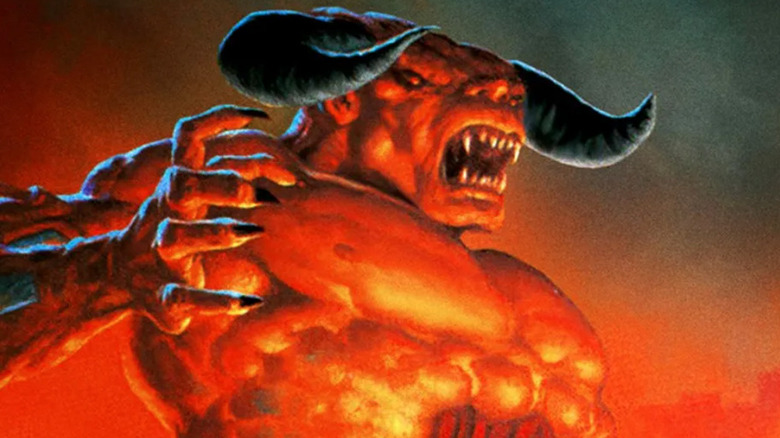 "Doom 2" is getting its first new level since it launched back in 1994. Created by one of the game's original creators, John Romero, the "One Humanity" level is now available to those who make a qualifying donation to humanitarian relief initiatives in Ukraine.
As announced through a tweet by developer John Romero on March 2, 2022, the "One Humanity" level was created by him "to support the people of Ukraine and the humanitarian efforts of the Red Cross and the UN Central Emergency Response Fund." For €5 (a little over $5 in the U.S), players can dive into the brand-new "Doom 2" experience they never saw coming. Fans can also feel good about their purchase, since "100% of the proceeds" support the work of the charities mentioned in Ukraine, according to Romero. To celebrate the launch of the new level, Romero even gave out a free code for "One Humanity" to a gamer from Kyiv.
The new "One Humanity" level is available for purchase on Romero's website to anyone who already has a compatible PC version of "Doom 2." Though some fans have had trouble adding the level to their game, many were nonetheless thrilled to see some satisfying new content arrive after so long, and for a good cause. On that topic, a recent update from Romero confirmed that his contribution to the ongoing efforts to aid Ukraine was quite significant.
Romero Raised Over $27,000 for Ukraine
On March 7, 2022, Romero let his fans know that the new level has helped raise more than €25,000 (or over $27,000) for Ukrainian aid. He's also hinted that "One Humanity" may come to console ports of "Doom 2," if id Software cooperates with his vision.
This new "Doom 2" level adds to the growing number of entertainment-related efforts to support those affected in the attacks on Ukraine, albeit in a more direct way than some other approaches. While Ukraine has requested that gaming companies block support from Russia, it seems such an effort could unduly punish innocent gamers in the country unaffiliated with the ongoing attacks. This is a concept the developers of "Cyberpunk 2077" have acknowledged when pulling the game from purchase for Russia and its ally Belarus.
Meanwhile, Wargaming fired a "World of Tanks" creative director who supported Russia's invasion and subsequently held a fundraiser for Ukraine. Other developers and games have yet to comment on the conflict, including "The Sims 4," which just days before the first attack announced it would release a story pack featuring a wedding between two women in Russia as a sign of support for the country's queer gamers.
Though these other responses have seen their share of ups and downs, the creation of a new "Doom 2" level by John Romero is a win-win for Ukrainians in need and fans of the game.