Latest GTA 6 Rumors Point To The Largest Game Yet
As fans finally know, Rockstar Games is in the process of developing "Grand Theft Auto 6." Unfortunately, we don't know much besides that. Leakers and industry insiders have taken up the task of speculation, spinning the rumor mill with supposed updates on the highly anticipated installment. The latest of these leaks involves games industry analyst Michael Pachter, who claims "GTA 6" might be more massive than expected. 
Pachter revealed this information on the Pachter Factor, his YouTube segment which semi-regularly posts on gaming channel SIFTD Games. The channel itself only has about 15k subscribers, but Pachter himself has over 40k Twitter followers and is known for frequently predicting information about consoles and games. Kotaku even bookmarked a few of his 2013 predictions to see how many of them came true 3 years later. The answer is: some. With that in mind, take this latest leak with a grain of salt. 
Pachter starts his recent video, "Grand Theft Auto VI First Details," with a recap of Rockstar unveiling what we suspected about "GTA 6" last month. In fact, Pachter claims that the 2,000 person studio was likely "working their a**es off to produce content" for "GTA 6" since 2014. He then dug into the details like the possible setting (or should we say settings) and how many hours of content fans could expect from the upcoming "GTA" installment. 
One of the biggest revelations? Apparently, "GTA 6" could have up to 500 hours of gameplay.
Committing crimes across the world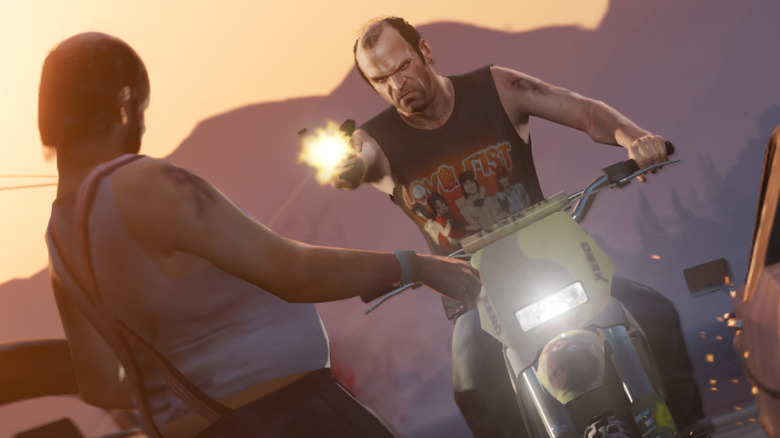 Pachter estimates that "GTA 6" could offer up to 400-500 hours of playtime based on the number of locations the team is planning to incorporate into the game. Unfortunately, that means Rockstar could take up to 10 years to finish development, Pachter said.
"GTA 6 is gonna take 10 years or more, and the reason is, my understanding is it is a mashup of Vice City, San Andreas, Liberty City, and Europe," Pachter told viewers. According to Pachter, the inclusion of different cities allows characters to travel between them for missions rather than staying in one place. For example, one might carry drugs from Miami to Los Angeles, or vice versa. As for specific cities in Europe, he only said that the game will include "London for sure."
Like all leaks, this is unconfirmed information that Rockstar has yet to comment on. Even the "GTA 6" release date is a guessing game at this point, considering how many industry insiders and reputable sources can't even agree on a year. All that's clear is that the game doesn't seem to be coming out anytime soon.