These Sonic Xbox Controllers Are Nightmare Fuel For Your Hands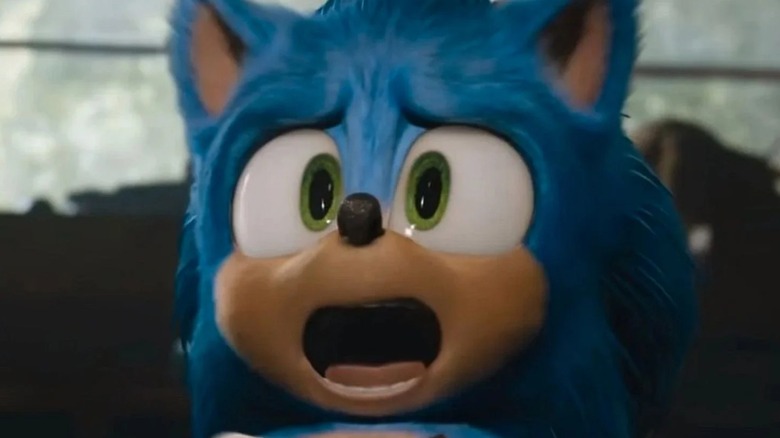 Paramount Pictures
Controllers have taken a lot of different forms as gaming has evolved. From the "Pong" joystick of old to the versatile, colorful Joy-Cons of the Nintendo Switch and the advanced haptic feedback found in the PS5 DualSense. Each new iteration has grown and changed, and there are numerous variations for every new generation of controller. Specialty editions have become a popular trend, with players being able to get custom-designed controllers and even consoles featuring imagery from their favorite franchises. This can be a great way for a gamer to get gear that really feels like their own and stands out from the basic black or white versions that typically comes with the standard console, but sometimes a new design can feel like a step backward.
"Sonic the Hedgehog 2" is racing toward theaters on April 8 and fans are thrilled that their favorite fuzzy blue speedster will once again light up the silver screen. It seems Microsoft is eager to celebrate the new release as well, as Xbox has just revealed a new custom "Sonic" Xbox Series S and controllers in honor of the film's upcoming release. The catch? The controllers are covered in red and blue fur.
Fans don't love shaggy Xbox controllers
News about the new custom consoles and controllers was released on the Xbox website. The console looks great. It's primarily black, but it features a large golden ring around the vent on the side above an image of Sonic and Knuckles facing off. The controllers feature a more... unique design, however. Each of them is covered in shaggy, brightly colored fur: one red and one blue.
Xbox shared these new designs on its Twitter account with the tagline, "we might need glasses because these controllers look fuzzy."
Aside from the questionable aesthetic choices, fans were quick to point out some major practical flaws with this design. User @Arial_Blade wrote, "All [I know] is that your hands are gonna sweat and those controllers are gonna smell funky," while user @Breeze Edxts stated, "They gone be brown with all the chip seasoning after a few weeks." It seems not many users are all that interested in a controller they have to give flea and tick medicine.
Those who are interested in this strange special edition console and controller combo can win one by entering a sweepstakes Xbox is hosting in honor of the upcoming film. Contestants simply need to follow the Xbox Twitter account and retweet the original post with the hashtag #XboxSonic2Sweepstakes for a chance to win, though how winners will keep their new controllers clean remains a mystery.