You Can Finally Bring Home This Epic Star Wars Jedi: Fallen Order Item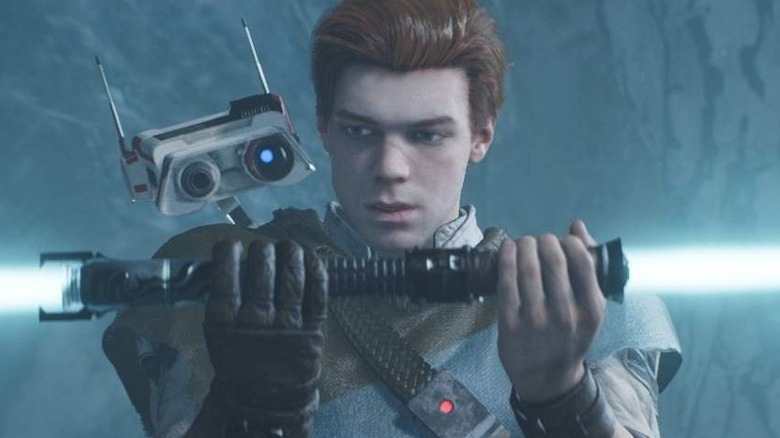 Fans of "Star Wars Jedi: Fallen Order" have another reason to celebrate the critically acclaimed game from Respawn Entertainment. Disney is showing some love to the video game by featuring Cal Kestis' lightsaber as a purchasable item in Galaxy's Edge, the "Star Wars" themed section of Disneyland and Disneyworld. Announced in a blog post, the company held a vote in 2020 to see which new lightsaber hilt would be added to Dok-Ondar's Den of Antiquities, the store where park-goers can buy replica lightsabers. People voted for Cal Kestis' lightsaber to be added to the park store and it will finally arrive on March 25.
The actor behind Cal Kestis, Cameron Monaghan, went to Disneyland himself to check out the replica lightsaber and hilt. A sequel to "Star Wars Jedi: Fallen Order" has been confirmed at this point, however many of the plot details, including if Cal Kestis will return for the next entry in the series, have not. For now, eager "Star Wars" fans will have to settle for owning Cal's unique lightsaber. Here's what makes his lightsaber so special.
The damaged blade of Cal Kestis' master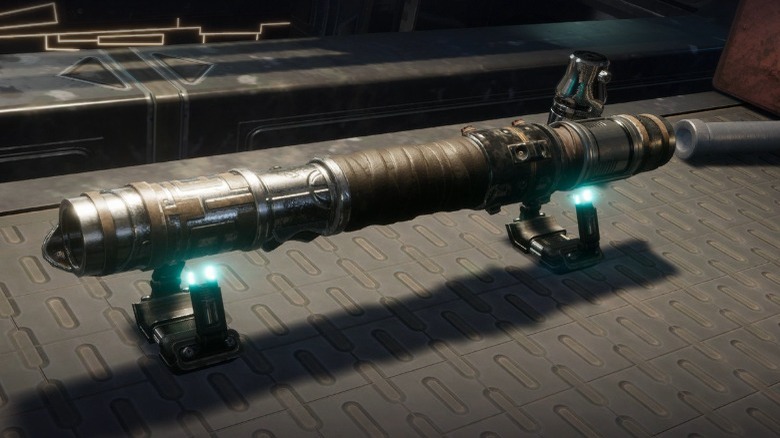 One of the more unique aspects of Cal Kestis' lightsaber is that while only functioning as a single-bladed weapon, it is actually a damaged dual-sided lightsaber. The hilt is broken and frayed on the bottom, from when the other side of the blade was damaged during Order 66. The lightsaber had previously belonged to Cal's master Jaro Tapal. Just like in "Star Wars Jedi: Fallen Order" the hilt is capable of becoming a dual-sided lightsaber again. Park-goers who purchase a second hilt can attach it to Cal's blade, either bringing it close to Jaro Tapal's original weapon, or getting it close to the lightsaber in-game.
While players can change the color of the lightsaber early in "Star Wars Jedi: Fallen Order," there is a mission late in the game where players obtain a new kyber crystal and restore the lightsaber to its former glory. At this point, players have the option to customize the color of the lightsaber, which can also be done at the shop in Disneyland and Disneyworld. Disney did state that legacy hilts like Cal Kestis' lightsaber are only available for a limited-time while supplies last, so anyone looking to pick up this piece of "Star Wars Jedi: Fallen Order" memorabilia should hurry. Respawn Entertainment currently has three "Star Wars" games in the works, including a sequel to "Jedi: Fallen Order."