Streamers Hit Back At Dr Disrespect's Streamer Awards Slam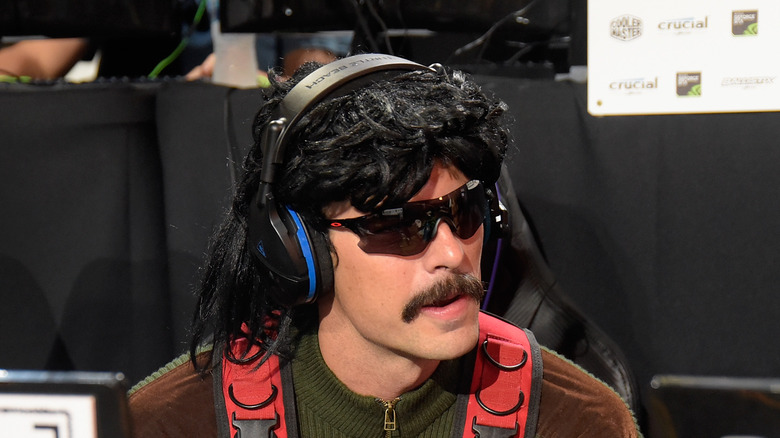 Michael Tullberg/Getty Images
It's no secret that popular streamer Dr Disrespect isn't one to keep his opinion to himself. For better or worse, the Two Time has never had any qualms about weighing in on currents events pertaining to gaming, other streamers, and everything in between. Much of this banter is obviously tongue in cheek — such as his more recent "feud" with NickMercs — but every now and then, the Doc will dish out a legitimate criticism and rock the boat. Most recently, Dr Disrespect took aim at The Streamer Awards — an event organized by QTCinderella to give recognition to those in the streaming space — and accused it of being rigged in favor of the organizer's friends.
Advertisement
It all started when fellow streamer ConnorEatsPants requested that the Doc show up at the next edition of The Streamer Awards and "cause a scene" — itself apparently a reference to the now-infamous altercation between Will Smith and Chris Rock at the 2022 Oscars. Almost immediately, Doc fired back with, "Imagine creating a fake awards show to give your best friends credit for something they're not even close to competing in." 
This was seemingly a reference to Ludwig Ahgren, QTCinderella's boyfriend, winning the ceremony's "Best Streamer" award. And predictably, Doc's tweet immediately gained traction and generated tons of engagement. The shady comment eventually made its way to some of the streamers involved in the ceremony, including QTCinderella and Ludwig, who both hit back at Doc's claims.
Advertisement
Ludwig and QTCinderella have responded to Dr Disrespect's criticism
In response to Dr Disrespect's barbed insults regarding the validity of The Streamer Awards ceremony and its winners, Ludwig and QTCinderella both fired back with shots of their own. 
"I'll ask [QTCinderella] to include NFT's in the gift bag," Ludwig tweeted in response, making a reference to Doc's controversial sale of NFTs as part of the Founders Pass for his new game studio. "That should help you make an appearance." QTCinderella also weighed in, saying, "Just ask for an invite instead of being a d***. [I'll] make sure to save a seat for you and you 2 [plus] ones next year." 
Advertisement
Other streamers also weighed in on the unfolding drama, with Maya Higa saying that Doc made her cry and ConnorEatsPants simply posting a picture of himself. Doc would eventually respond to Ludwig, but seemed to double down on his criticisms, saying that the YouTube star has "two more years of relevance" before his popularity fizzles out.
Dr Disrespect isn't the first to question the integrity of The Streamer Awards. In the aftermath of the controversy, head organizer QTCinderella temporarily set her Twitter account to private due to the backlash and harassment that ensued as a result of the ceremony's winners.