Elden Ring Almost Had Its Own Pokedex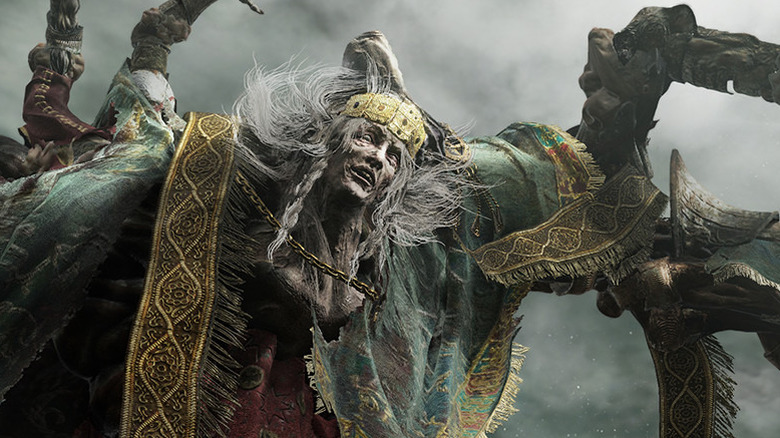 "Elden Ring" is a massive game, but it could have been even bigger. Thanks to the efforts of talented dataminers in the "Elden Ring" community sifting through the game's data, fans have gotten a look at a great deal of content that could have been in the game. For example, hackers have found multiple interesting items in the game's files that didn't make the cut. And as this new discovery reveals, cutting content doesn't only mean delivering fewer weapons and items for players to mess around with — it can also mean less lore.
FromSoftware is known for its unique approach to storytelling. Where other games rely on cutscenes or exposition to tell a complete story, FormSoftware offers much of its intricate lore through item descriptions, side quests, and hints spread across the world. However, some of the game's side quests can be easy to miss and a feat to complete, like in the case of the Loathsome Dung Eater questline.
Most recently, players have been gnawing on a new leak the hints the game could have had its own version of the Pokedex from the "Pokemon" franchise. If utilized, this feature could have potentially helped players track the lore and appearances of the scary creatures of "Elden Ring."
Does Elden Ring need a Pokedex?
A tweet by dataminer @JesterPatches posted on March 27, 2022, revealed the discovery of a gigantic menu system is hidden in the game files, which contained 128 icons showcasing different NPCs in the game. Each NPC has two identical icons, one greyed-out and the other colored in, which means there are 64 unique icons in the game files. It's also worth noting that there are no major boss icons, most likely because bosses have their Rememberances placed in player's inventories when the boss is felled.  Although it's not entirely clear what these images mean, @JesterPatches noted that they appear strikingly similar to a Pokedex or bestiary.
A Pokedex would make sense in a large open-world game like "Elden Ring," which features hundreds of unique enemies roaming the world. In fact, many fans have previously asked for such a feature in past FromSoftware games. This has led some fans to piece together their own bestiaries from scratch, like the fan-made bestiary for "BloodBorne."
FromSoftware has already made steps to add previously unreleased content to the game, as seen in its inclusion of the NPC Jar Bairn and continuations of multiple quest lines. This means there may be a chance the "Elden Ring" bestiary could eventually make its way into the final game through updates or DLC.