Amazon Games Studios Sees A Major Shakeup
Amazon has a presence in virtually every industry these days, but its expansions into gaming have been significant. In addition to being one of the biggest gaming retailers, it owns the streaming platform Twitch, it's in the process of launching a gaming subscription service called Luna, and it was revealed in the 2021 Twitch security breach that Amazon has plans to launch its own PC gaming platform which has been codenamed "Vapor." Amazon's presence isn't all distribution though. Amazon Game Studios is bringing new games into the world as well. The studio had a bit of a rocky start with various canceled games, but it has now had a hand in two immensely popular new titles. the first being the MMORPG "New World" which the studio published and co-developed with Double Helix Games, and the second is "Lost Ark" which was developed by Smilegate RPG and published by Amazon Games.
Now, it seems the studio is about to see a major shakeup. Bloomberg has reported that Amazon Game Studios Director Mike Frazzini has announced to staff that he is stepping down from his position within the studio and leaving Amazon to spend more time with his family.
Mike Frazzini to step down as Amazon Games Director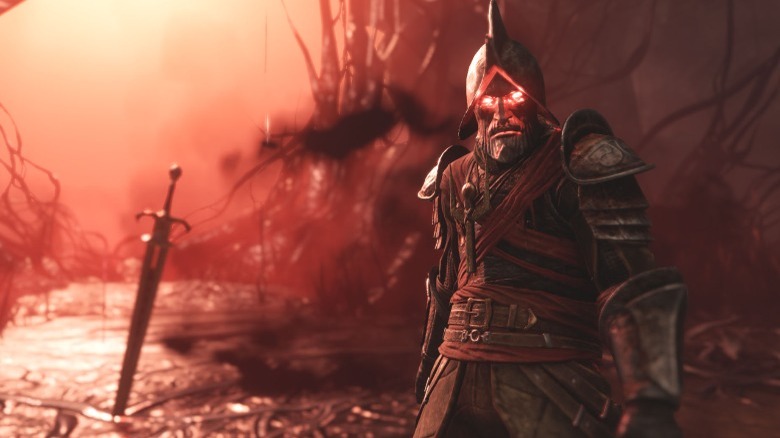 Amazon Game Studios
The news was also announced on Frazzini's Linkedin page, where he stated that his departure comes at the end of nearly 13 years in games and 18 years with Amazon. "It's always been in my head to take time off," he stated, "and to pursue some personal interests while my knees and back are still (relatively) healthy. I have no idea where things will lead from here (maybe even back to Amazon someday) – but I'm excited for the adventure." He went on to explain that he has had this plan for a while now, but that there hasn't been a great time to leave until recently. He claimed that the release of "New World" and "Lost Ark" has put the studio in a position where he feels comfortable stepping down.
Many believed that Frazzini was an odd choice for the position in the first place. He worked in books as Amazon's Director of Author Services (via Linkedin) and had no experience in the gaming industry prior to the founding of Amazon Games. He also reportedly had very little knowledge about video games in general and his management style was often criticized for favoring data analysis over fostering creativity. Frazzini is one of the employees who helped found the studio, however, and his absence will almost certainly lead to major changes in how the studio is managed.