Is Evil Dead: The Game Cross-Platform?
Boss Team Games
"Evil Dead: The Game" is one of the latest multiplayer-focused horror game to enter the online gaming market. Developed by Saber Interactive, this co-op/player-vs-player game based on the cult-classic film franchise hopes to make a splash in the same ways as "Dead by Daylight" and "Friday the 13th: The Game." It will arrive across a bevy of platforms, including PC, Nintendo Switch, PlayStation 4, PlayStation 5, Xbox One, and Xbox Series X|S.
The game's release on so many systems begs the question of whether "Evil Dead: The Game" will offer cross-platform support. "Dead by Daylight" has been a massive success with its own integration of cross-play, bringing many players together to enjoy its scared-filled action gameplay regardless of their system preference. In fact, "Dead by Daylight" is so beloved it might even become a dating sim in the near future. Being an online-focused experience with co-op and PVP gameplay, it makes sense for "Evil Dead: The Game" to feature cross-play, and such support can help it earn a massive playerbase.
Cross-platform is groovy in Evil Dead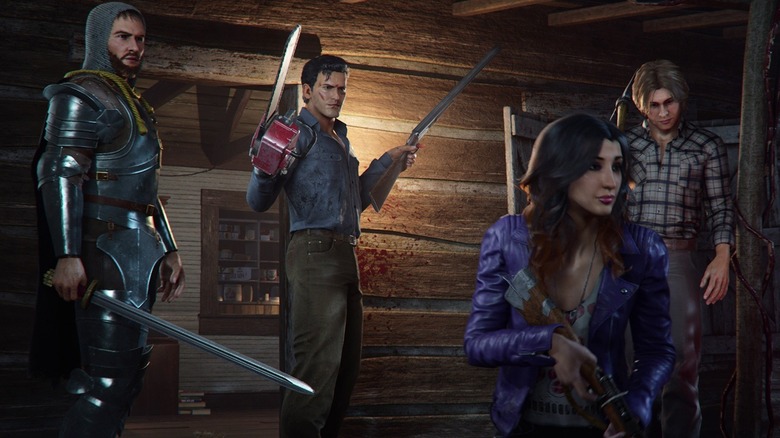 Boss Team Games
To that effect, gamers will be happy to know that the answer is yes: "Evil Dead: The Game" will feature cross-platform support. The game's official Twitter page confirmed that it will feature cross-play between all unique versions of the game. This means that, whether you are playing on the PC, Nintendo Switch, PlayStation, or Xbox, you will be able to play with your friends of any system, regardless of whether it's a last-gen or current-gen system.
"Evil Dead: The Game" will allow up to four players in online play, traversing some of the franchise's most iconic locations, such as the film's cabin in the woods. The game will feature 25 different weapons, including Ash's classic chainsaw and boomstick, and players will be able to upgrade their characters through skill trees. With so many exciting additions, here's hoping "Evil Dead: The Game" takes advantage of the franchise's lore to make a game faithful to its legacy.