Dr Disrespect Is Taking His Music Career To The Next Level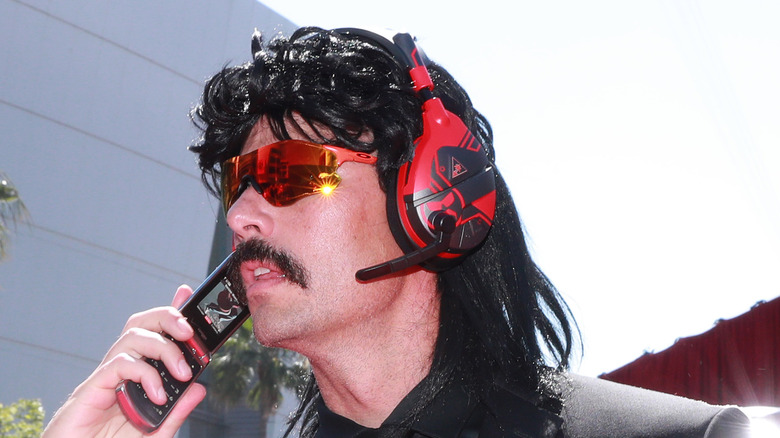 Rich Fury/Getty Images
Very few streamers exhibit the high production values of Dr Disrespect. From hilarious custom transitions to a functioning green screen, Dr Disrespect works hard to give his streams a polished look. Not only do his streams look good, but they sound good too. Original tracks like "Gamerobics," among others, provide his stream with a unique soundtrack that keeps the energy levels high in the arena. As a result, Dr Disrespect's stream stands out from the crowd, often feeling more like an ESPN broadcast than a run of the mill video game stream. And for many viewers, his streams are a breath of fresh air away from the recent Twitch meta of reacting to live TV on stream.
However, Dr Disrespect isn't without flaws. Dr Disrespect has a long history of controversy, including a mysterious permanent Twitch ban. Following the ban, the Doc teamed up with J+1 to release a catchy song called "Alleyways," which hinted at his dissatisfaction with Twitch. Today, Dr Disrespect's legal dispute with Twitch is over, and he streams on YouTube full-time.
After moving over to YouTube, Dr Disrespect has further expanded the Champions Club fandom by publishing a book, working on a television show, and launching a games studio. Although, his game announcement has caused an uproar in the community due to its inclusion of NFTs. Recently, Dr Disrespect shared another piece of content he's working on to add to his already lengthy list of projects, and it looks to be a full album of music.
A new album could be in the works
During a YouTube livestream on March 30, Dr Disrespect got a call on his flip phone from a mysterious character. After answering the phone, Doc immediately started arguing with the caller, saying, "the song's not complete" and "we haven't even done the harmonies yet." After hanging up, Dr Disrespect reluctantly shared a snippet of a brand new song with his viewers. The leaked song featured an electronic beat accompanied by Dr Disrespect's reverberated vocals. It's safe to say the new track is in line with the streamer's 80s action hero aesthetic.
Once the snippet ended, Dr Disrespect explained to his audience, "Between the album, the bourbon, the soon-to-be $100M+ gaming studio, the animation show, I've got a lot going on." Now, fans have heard him mention his bourbon line and animated series before, but this is the first time he's talked about creating his own full-length album.
Although a full-length album by the Doc sounds like a dream come true for the thousands in the Champions Club, it looks like they will need to keep waiting for the time being. There's still no word about when or if it will ever be released in full.