Why Psyonix Won't Release Rocket League 2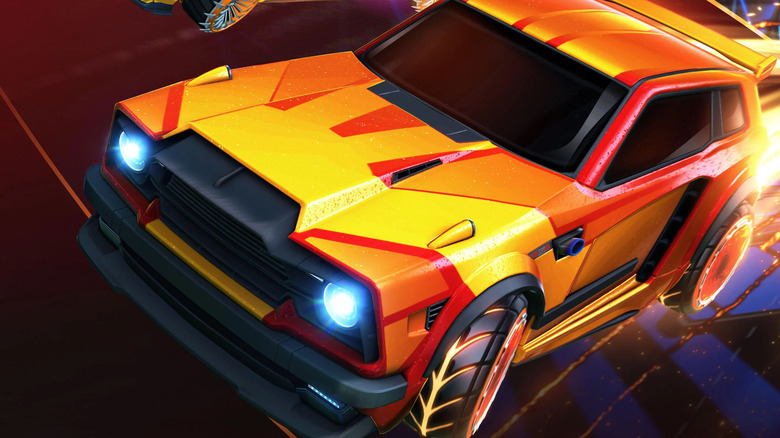 Psyonix
Psyonix might have "Rocket League 2" in the works, but it doesn't seem like it's coming anytime soon. Fans were tipped off to this possible development during the Epic vs. Apple lawsuit, during which Psyonix was one of the developers caught in the crossfire. In Psyonix's case, it submitted slides containing information about two mobile games and a project called "Rocket League Next" — the next generation of "Rocket League." However, it's not yet clear what that means. 
Lawler, a popular "Rocket League" content creator and full-time esports commentator, spoke about the possible sequel in one of his videos. He theorized it would revamp "Rocket League" with an updated engine, as "Rocket League's" Unreal Engine 3 prevents it from reaching the same level as its competitors. According to him, much-requested features like custom game modes would be much easier to implement in Unreal Engine 5 or even Unreal Engine 4.
It's true that many modern esports titles run on the latest Unreal Engine. Lawler uploaded his video about the possible "Rocket League" sequel in May 2021. However, there's still no sign of a "Rocket League 2" or "Rocket League Next," so is it really possible?
It might be the wrong time for Rocket League 2
In his video, Lawler pulled an excerpt from Psyonix's legal documents that said it would use a "new, next-gen client that would provide a full gameplay experience for Rocket League across all platforms" in "Rocket League Next." All platforms meant cross-play, cross-progression, and other multiplayer capabilities between PC, consoles, and mobile. Note that "Rocket League" already has cross-play and cross-progression between PC and consoles. "Rocket League" also already has an existing mobile game, "Rocket League Sideswipe."
Lawler noted that the Epic v. Apple documents were from 2020. Psyonix hasn't openly rejected the idea of a "Rocket League 2," but it's unclear if the team is even working on anything remotely related to a sequel right now. "Rocket League" hit over 1 million concurrent players after going free-to-play in September 2020. According to Esports Insider, it also attracted more esports fans thanks to its new status. So, Psyonix might want to keep supporting "Rocket League" after all that effort and continued interest in the game.
Psyonix probably won't release "Rocket League 2" anytime soon — not necessarily because it doesn't want to, but perhaps because now isn't the right time. Those who want to play "Rocket League" can download it for free on PC, PlayStation 4, PlayStation 5, Xbox One, Xbox Series X|S, and Nintendo Switch. "Rocket League Sideswipe" is available for iOS and Android.