Things Are Looking Bad Between Ninja And Epic Games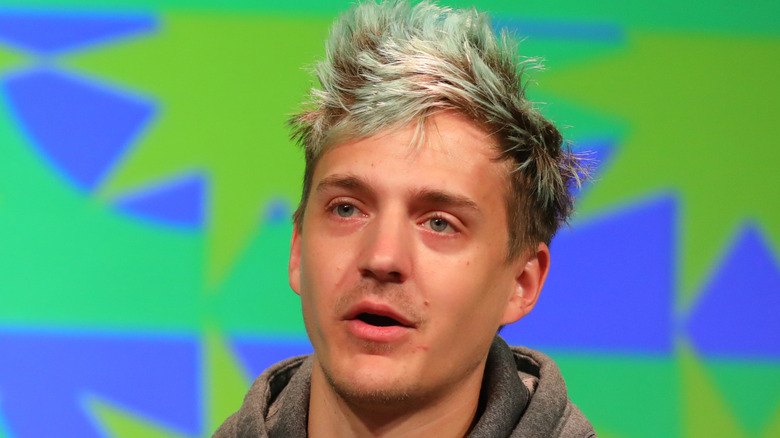 Diego Donamaria/Getty Images
Tyler "Ninja" Blevins has been on top of the streaming world for quite some time now, with a great deal of his success stemming from his strong relationship with fans on Twitch and his proficiency at mega-popular games like "Fortnite." Back in 2020, this loyalty to Epic Games' beloved battle royale title was rewarded when Ninja became the first streamer to receive an Icon Series "Fortnite" skin. The reveal of this in-game avatar, which grants players Ninja's trademark blue hair and exclusive back bling, was seen as a huge moment for content creators in the gaming sphere, and the honor has since been extended to streaming heavy hitters like LazarBeam, LoserFruit, and TheGrefg. 
Unfortunately for Ninja's biggest fans, his momentous character skin has been out of rotation in the Fortnite shop for a while. This hasn't gone unnoticed by the streamer's viewers, however, which is why the topic of the skin came up in Twitch chat during one of Ninja's recent streams. While playing an intense game of (what else?) "Fortnite," Ninja was asked when players could expect his Icon Series skin to make its triumphant return to the game. Ninja's response not only seemed to spell bad news for the skin itself, but also may have shed some light on the superstar streamer's current standing with the company behind "Fortnite."
Ninja thinks Epic 'hates' him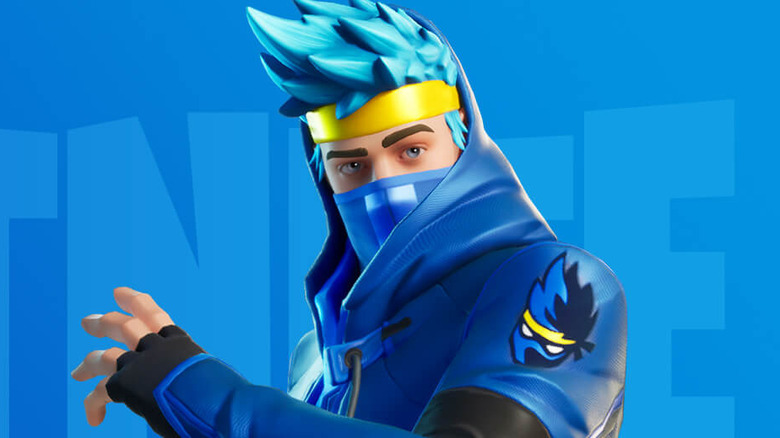 Epic Games
According to Ninja, the skin was supposed to have returned to the "Fortnite" Item Shop much earlier this month, but its release keeps getting moved back for unknown reasons. Now Ninja thinks it could be another month or more before fans who missed out on the Icon Series skin will be able to purchase it.
This was apparently the final straw for Ninja, as he unexpectedly revealed how he views his partnership with Epic Games. "I kind of feel like Epic hates me right now, dude. Truly. I feel like I'm kind of getting shafted. You know ... I didn't have an offer, or at least I don't know, you know, if I was reached out to ... to participate in any of these cups that a lot of these people are running, right?" he said, specifically referring to events hosted by streamer like Ludwig Ahgren.
No specific reason has been given for this apparent falling out with Epic, but the streamer seemed to have accepted the idea that Epic may not be reaching out in the immediate future. Ninja did, however, posit the theory that Epic could be wanting to branch out and work with new talent as a way of boosting lesser-known streamers. Ninja conceded that he'd already had his own turn at an event series with Ninja Battles, which could explain why Epic hasn't been in a hurry to repeat itself. However, he expressed his frustration with the fact that he and his team had been advertising the imminent return of his Icon Series skin, only to see it delayed.
So what does this mean for Ninja's future in the "Fortnite" scene? Fans will be happy to know that Ninja has an optimistic outlook on the situation, but he does seem to be losing his patience.
Ninja holds out hope for more Epic collabs
Ninja told his viewers that he's still hopeful for future collaborations with Epic Games, perhaps in the form of new versions of his popular "Fortnite" skin. After all, other Icon Series creators have rolled out multiple new versions of their character skins. Gamers could look forward to seeing Ninja avatars with different hairstyles and equipment in the future, if the content creator gets his way. "I want another variant, bro," Ninja said. "I would love another Ninja variant ... Marshmello has, like, four. Four styles that got added." 
For the time being, however, Ninja explained to fans that the overall lack of communication from Epic left him in an odd spot. The streamer explained that he felt out of the loop, concluding the Epic Games talk with, "These conversations could be happening right now, but like, my team hasn't told me about any of these conversations ... It's not like it's in the works right now, but ... I'm more sad than mad."
By Ninja's own admission, he's okay with his viewership and output being a bit less than it used to be. Back in November of last year, he described a shift in his priorities, putting family above the hustle. But while Ninja may be excited to see other content creators getting the spotlight, it's clear that he's still very passionate about "Fortnite" and his partnership with Epic Games. Fans will just need to keep an eye out for the return of his Icon Series skin — hopefully with some new hairdo options on deck.