Next-Gen GTA Removes Offensive Content After Outcry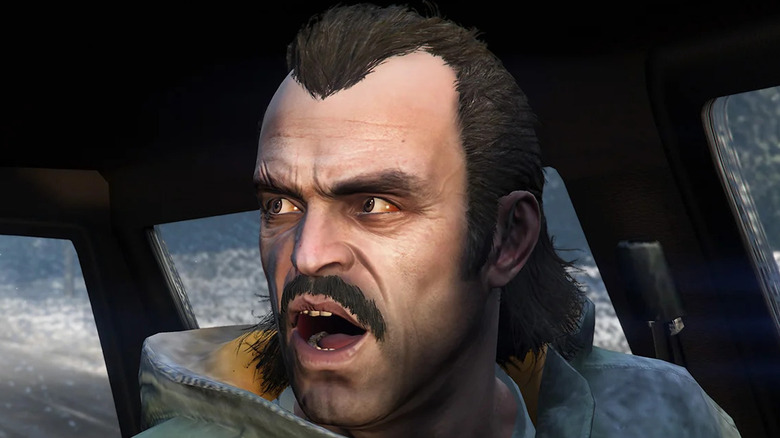 Rockstar Games
The next-gen version of "Grand Theft Auto 5" includes improved graphics and better loading times. Although the initial price difference across consoles frustrated fans, Rockstar took the opportunity to correct some of its previous mistakes and remove some offensive content from the game.
Advertisement
Kirsty Cloud, an admin for GTANet, made a thread on Twitter detailing the transphobic content that was cut in the new release of "GTA 5." This included NPC models named "drag queens" that depicted harmful stereotypes of transgender women. The models still exist in Director Mode, but all of their lines of dialogue have seemingly been removed from the game. Cloud suggested that the removal of the lines also indicated the removal of dialogue for the main characters related to those NPCs, such as references to "using hormones."
Another key difference concerns a piece of art found in the in-game arcade. One of the Captain Spacetoy figurines originally displayed on the wall depicted an individual in a pink costume advertised as "Interstellar Transgender" with an "interchangeable genitalia" feature. This depiction was removed in the next-gen versions of the game.
Advertisement
Community members have reportedly asked for these changes since Rockstar first announced the next-gen "GTA 5."
Out Making Games sent a letter to Rockstar last year
Rockstar Games
Out Making Games, an LGBTQ+ community for game developers located in the UK, wrote an open letter to Rockstar nearly a year ago asking for these changes. Out Making Games confirmed on its Twitter account that the alterations made were the ones it had requested, even if Rockstar has not officially confirmed as much.
Advertisement
In a blog post on the Out Making Games website, it said, "Grand Theft Auto 5 is a wildly popular game with millions of players worldwide and this change can have a huge impact on the way that those players see trans people. Thank you to everyone at Rockstar who prioritized this issue – we ourselves are game developers and understand that even small changes like this take coordinated time and effort."
Yangy Young, a nonbinary member of the "GTA 5" community, made a Twitter thread explaining how they felt about the NPCs. They said that personally they only ever viewed these characters as drag queens based on how Rockstar identified the models. "I think it was transphobic people themselves who labelled these characters as trans women, which created the overall idea that these were heavily stereotyped NPCs." No matter the origins of the issue, they saw the removal of the content as a logical and important step given the discrimination transgender individuals often face.
Advertisement