Warzone Leak Confirms Classic Monsters Heading To Caldera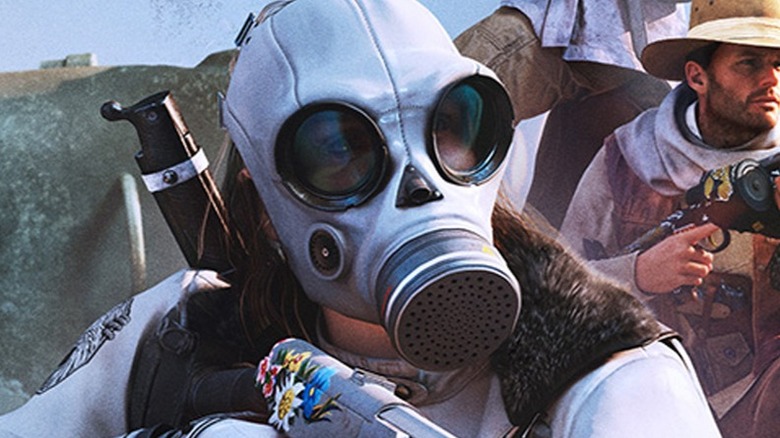 Activision Blizzard
From time to time "Call of Duty" treats players with new operators, using the opportunity to introduce familiar faces from the real world, like Snoop Dogg. Gamers continue to anticipate new operators and changes to "Warzone" in order to keep things fresh, but no one saw the next round of updates coming.
PlayStation Game Size, a Twitter account dedicated to tracking – what else? – the game size changes of consistently updated games like "Warzone," shared new information about an upcoming event. According an update in PlayStation's databases, "Warzone" will soon see a new event titled "Operation Monarch," and PlayStation Game Size provided fans with apparently leaked promotional art featuring famous movie monsters Godzilla and King Kong. 
This isn't the first time the King of the Monsters has shown up in a video game outside of his own franchise. Godzilla also appeared in "Fall Guys" as a wearable costume – albeit the kaiju was more cute than scary. However, Godzilla and King Kong seem like odd picks for the "Call of Duty" franchise, which often thrives on realistic combat and accurate weapons. The classic creature duo might just be what "Warzone" needs to shake things up in its third season. At the very least, it should make for a cinematic experience.
But what is "Operation Monarch," and why is "Call of Duty" suddenly choosing to incorporate so many pop culture icons in its series?
This isn't the first time Warzone has crossed over with pop culture
Activision Blizzard
Godzilla and King Kong aren't the first pop culture icons to appear in "Call of Duty," and they likely won't be the last. Although no one knows that the "Operation Monarch" event entails just yet, it's the latest in a trend of "Warzone" using movie crossovers to boost player engagement. Some of these crossovers make sense in-world. Season 3 of "Warzone" saw the popular Verdansk map get a 1984-style makeover, changing both the map and the timeline of the game significantly. Soon after Verdansk got sent back in time, developers introduced Nakatomi Plaza – the key setting in "Die Hard" – as a fixture on the map. Fans might have missed some of the "Die Hard" Easter eggs sprinkled throughout the update, but the inclusion of "Die Hard" series protagonist John McClane served to ground Verdansk in the 1980s while also connecting "Call of Duty" to a favorite film.
Other "Call of Duty" operators have been less clearly connected the world of the game. "Call of Duty" introduced characters from "Scream" with "The Haunting," a series of creepy goodies added to help celebrate Halloween. In 2020, "Warzone" welcomed both Billy the puppet from the "Saw" franchise and Leatherface, two horror stars. Again, though, the new monsters are on a very different scale.
While inclusions from beloved movies are fun for players, they don't often add any real detail to the plot of "Call of Duty." It seems that Godzilla and King Kong might be a different case, since their arrival is part of a larger event and not a simpler periodic update. Of course, the "Call of Duty" fan community is buzzing with excitement over the news.
What do gamers think of the crossover?
Gamers had mixed reactions to the tease of Godzilla and King Kong. TimTheTatman seemed curious, and responded to an official "Call of Duty" tweet by asking if Godzilla would be making an appearance during any upcoming announcements.
One gamer pointed out that unlike the Snoop Dogg and Rambo skins previously featured in the game, the King Kong and Godzilla tease seems to be part of an entire event, not just a skin for players to use in combat. While it's unclear what their arrival could change about the maps and other features in "Call of Duty," it would make sense for the kaiju to be part of something more plot-related. Don't anticipate being able to play as Godzilla with a machine gun anytime soon.
Other gamers have feared that "Call of Duty" might become more like "Fortnite" with the implementation of more pop culture characters and events. One fan explained that all game series evolve over time, and it's natural for long running franchises to want to try new things in order to remain fresh. Another gamer said that including pop culture skins and characters would only weaken the game over time. While it's a fair worry that "Call of Duty" could lose what makes it appealing, some fans are excited about the event and curious about how it could shake things up.
Some fans took the opportunity of the leak to air their grievances about other "Call of Duty" changes. One gamer complained that if the event was meant to take place in Caldera, it's guaranteed to be disappointing, and that nothing could save what they saw as an inferior map. Ultimately, gamers will have to wait for the "Operation Monarch" event to find out what's happening in "Warzone" for certain. According to the leaked artwork, "Operation Monarch" kicks off May 11.