Call Of Duty Fans Might Have Missed This Great Die Hard Easter Egg
The nearly 20-year-old "Call of Duty" series has been known to make tons of references to other forms of pop culture. This includes references to "Enemy at the Gates," "Saving Private Ryan," and even "Alien." One of the series' newest references comes in the form of a nod to "Die Hard," which has been brought to fans' attention by the eagle-eyed vision of Reddit user BeefFlavorBubblegum.
Advertisement
'80s movie icon John McClane, the protagonist from "Die Hard," recently joined the long list of Operators in "Call of Duty: Warzone," and now it seems fans have found a new Easter egg that ties into the classic action film. If you check out the stock of the MP5 when applying certain McClane cosmetics, you'll notice that it says, "Now I have a machine gun."
This is a reference to a memorable moment in "Die Hard," the first entry in one of the most binge-worthy action movie series. After John McClane kills the first of 12 terrorists, he seats the dead corpse in an elevator and sends the elevator to the floor where the majority of the terrorists remain. The corpse has been given a Santa Claus hat and his shirt says, "Now I have a machine gun. Ho-ho-ho." The phrase is read aloud by the movie's villain, Hans Gruber, played by Alan Rickman.
Advertisement
For the most "die hard" fans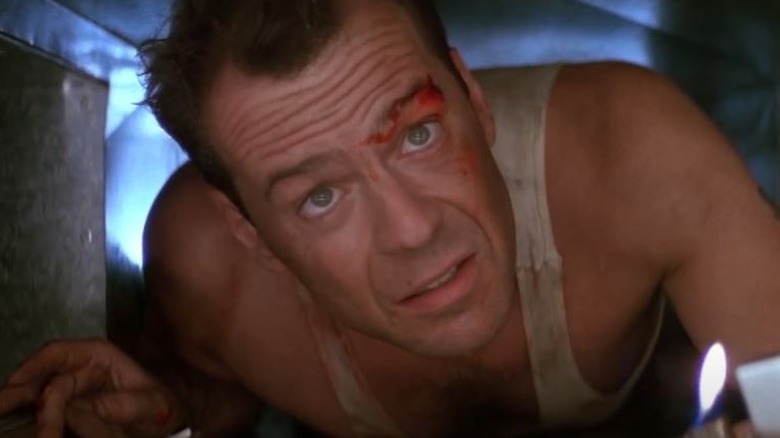 20th Century Fox
The "machine gun" that McClane refers to and uses in "Die Hard" is, of course, the MP5 submachine gun. The same weapon has also appeared in numerous "Call of Duty" titles throughout the years, including the "Call of Duty: Modern Warfare" subseries, the "Call of Duty: Black Ops" subseries, and "Call of Duty: Mobile."
Advertisement
The John McClane operator bundle was launched alongside the Rambo operator bundle, both of which were part of what was appropriately called the "'80s Action Heroes event." During the event, "Call of Duty: Mobile" players also had the opportunity to purchase a "Die Hard" bundle, which grants players a grenade bearing the phrase "Ho-ho-ho," which references the "Die Hard" elevator scene as well.
While these are fun and references and nods, there have certainly been even more eclectic additions and updates to "Call of Duty: Warzone." For instance, the Music Legend Mastercraft Bundle introduced the Shredder assault rifle, which is painted red, white, and blue, and is shaped like an electric guitar. Still, any "Die Hard" references are likely to appease fans of the long-running action series.
Advertisement