The Real Reason Dr. Dre Reversed Course On GTA 5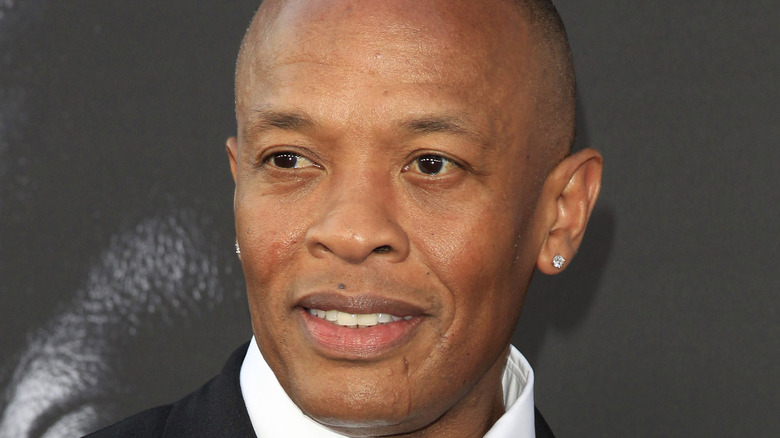 Kathy Hutchins/Shutterstock
When fans talk about the best video games of all time, it's difficult to leave "GTA 5" out of the conversation. And when talking about the best hip-hop artists of all time, it's impossible to forget Dr. Dre. The two icons recently joined forces in an expansion for "GTA 5" that starred Dre as a central figure. Fans suspected the team up was coming for some time, especially after Snoop Dogg teased Dre's appearance. Finally, after 8 years, Rockstar upheld its promise and announced that it would release an expansion for its best-selling game starring Dr. Dre alongside popular "GTA 5" characters. "The Contract" released in December 2021, making "GTA" history in the process.
The expansion features "GTA 5" protagonist Franklin, who has opened a business solving problems for clients in need of a discreet solution. It just so happens that DJ Pooh, Dr. Dre's longtime collaborator, needs some help on a job involving his good friend Dre. Dr. Dre's cell phone was lost while traveling, and the duo fears that whoever has it might want to steal its contents: unreleased music by Dr. Dre himself. Players have to help Franklin track down the phone and deliver it safely back to Dre in order to complete the mission and earn the street cred they desire.
While fans were excited to see Dre in a video game, the rapper wasn't always so keen on the idea. As DJ Pooh recently revealed to BET, Dr. Dre wasn't always an easy sell on appearing in the video game.
Dr. Dre misunderstood what the game was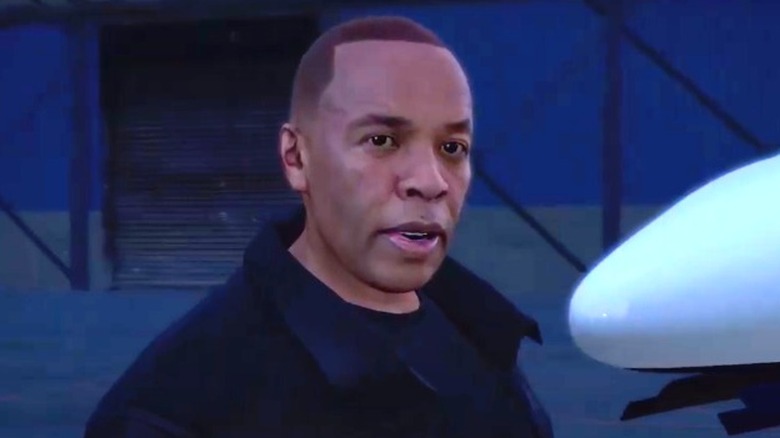 Rockstar
In an interview with BET, DJ Pooh explained that Dr. Dre didn't initially want to be in "GTA 5," not because he hated video games, but because he fundamentally misunderstood what the game was about. DJ Pooh has worked on previous "GTA" games like "San Andreas" and "GTA 5," writing dialogue and making sure the games felt authentic. When he approached Dre about appearing in an upcoming "GTA 5" expansion, Dre immediately declined. 
"The answer was initially no because Dre's not a gamer," DJ Pooh explained. "He just didn't play any of the games. It's not like he dislikes them or something, he just didn't play them. He was like, 'I don't make things for kids.'"
Since Dr. Dre doesn't play many games, it's understandable that he might think that "GTA" is essentially for children. However, as most gamers know, that's not the case at all, and most "GTA" titles are rated for mature audiences only. In fact, "GTA" games have long been a hobby horse for legislators that want to ban violent video games. DJ Pooh helped Dre conceptualize what his role in the series might be by showing him "GTA 5" in all its glory, and the rest was history.
After seeing DJ Pooh cruise through the streets in his tricked-out car, Dr. Dre reconsidered and decided to talk to Rockstar about the project. According to BET, Dre even recorded motion capture sessions for the expansion, participating in the creative process every step of the way. Once Dre was on board, Rockstar had an "in" with other big names in the music industry.
Dr. Dre brought his friends with him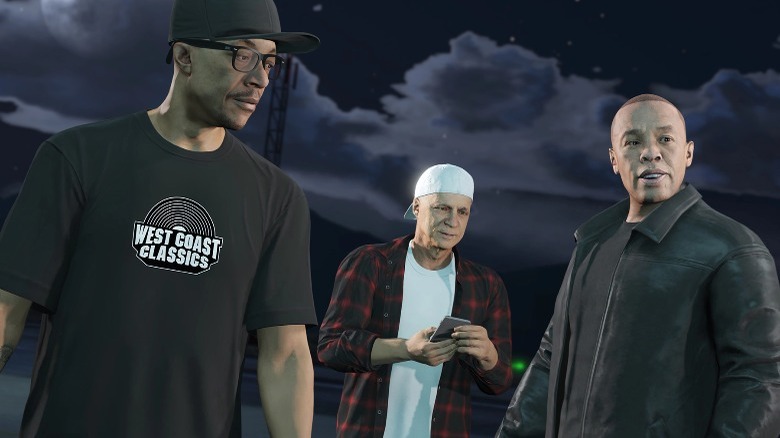 Rockstar
Once Dre was on board, things really started to come together for "The Contract." Returning cast members like Shawn Fonteno, who voices Franklin, were thrilled to work with Dre. "Come on, it's Dr. Dre! That's a musical genius," Fonteno told BET. "Like tying 'GTA' into the music, [into] hip hop [culture], and then you pick one of the top West Coast producers, if not the top West Coast producer [to be involved], man I knew it was going to be a hit." Fonteno felt honored to work with a music industry legend, but the project ended up including several big names in the entertainment industry. Dre brought along some of his famous friends to collaborate on new music for the expansion.
Snoop Dogg, Eminem, Nipsey Hussle, Anderson .Paak, Thurz and Cocoa Sarai all boarded the project, working with Dre to produce a few new songs for the game. After all, if stolen music is the centerpiece of the plot, it better be worth fighting for. 
According to BET, Rockstar wanted "The Contract" to feel like a full-blown story, not just a way to shoe in additional music to an already popular game. Dre's cooperation was essential in making this happen, and players ended up feeling like they got to meet the music legend, not just watch him. Still, none of this might have happened without a little extra care from DJ Pooh, who showed Dr. Dre how cool "GTA" really is.