Elden Ring Is Slashing Its Way To A Platform You Never Expected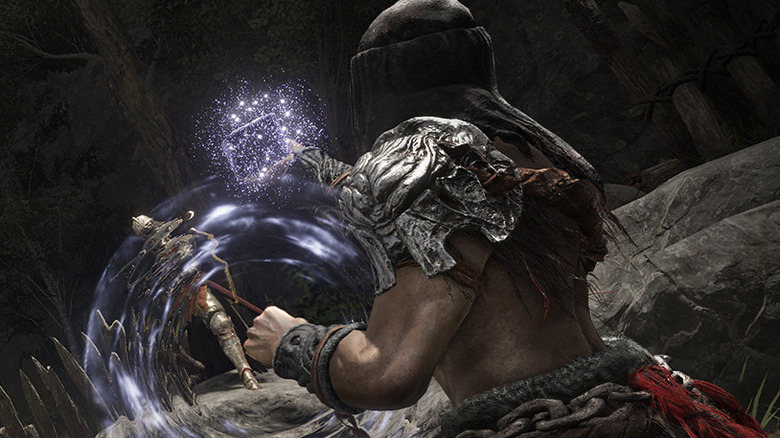 Bandai Namco
"Elden Ring" is popular — enough that those who can't play it are feeling the FOMO. Sad onlookers have even asked about a Nintendo Switch port, which doesn't seem to be coming anytime soon. On the other hand, it turns out a Game Boy demake might be on its way this spring. 
Streamer shintendoTV apparently moonlights as a developer. He posted about his "Elden Ring" Game Boy demake on Reddit, attracting many commenters interested in the finished product. In his trailer, you can see the tiny, pixelated Tarnished rolling around a green-tinted, monochrome Limgrave. You can even see them attempting to fight a boss and the resulting "YOU DIED" screen that "Elden Ring" has accustomed its players to. ShintendoTV is working on the "Elden Ring" demake with GB Studio 3.0, which even has an export option for the Analogue Pocket. As noted by IGN, it's likely that the game will run on a newer piece of hardware rather than an original Game Boy.
"I'm using GB Studio 3.0, a really impressive and brand new piece of software to develop this game. I haven't decided on the scope yet, but I am at least hoping to finish Limgrave area by the end of May," shintendoTV wrote. For context, the Limgrave area is one of the first areas players can access in "Elden Ring." He talked a little bit more about what he expected to do on his recent stream. However, he's taking the development process slowly.
The latest Elden Ring demakes
ShintendoTV was one of the first developers to impress the internet with a playable demake of FromSoftware's latest hit, but he didn't create the first "Elden Ring" demake. Hoolopee reimagined what "Elden Ring" would look in the '90s, too – more specifically, what it would look like on the PlayStation 1. The same person was also responsible for a viral "Resident Evil Village" demake that made Lady Dimitrescu more terrifying than ever. However, these were both trailer demakes rather than fully playable games for fans to actually enjoy. 
ShintendoTV didn't specify when or if he planned to finish more sections of the game. It's hard to believe that he would recreate the entire thing, considering how massive "Elden Ring" is. However, he invited fans to join his streams to talk about his development process or follow his YouTube for updates on the demake.
"Elden Ring" is available for PC, PlayStation 4, PlayStation 5, Xbox One, and Xbox Series X|S. It's not too late to play, considering how many gamers are still grinding through the game's multiple endings. Fans are also digging up information on a possible DLC.