Why This YouTuber Threatened To Sue Over The Halo TV Series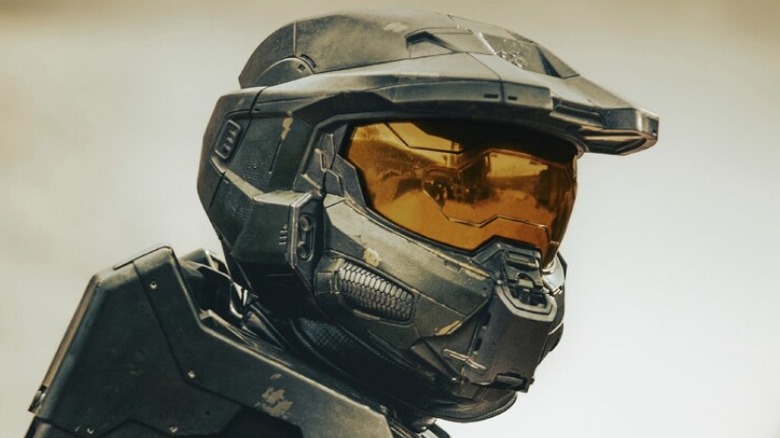 Paramount Global Distribution Group
Perhaps you've seen the new "Halo" TV series available for streaming on Paramount+. Perhaps you've also seen that the reception among fans is pretty mixed, forcing the actor behind Master Chief to break his silence on the matter. Some love it, some don't, but it's definitely a topic that gaming YouTubers enjoy discussing. With a single new episode released each week, it's filling that "Mandalorian"-shaped hole for fans of sci-fi TV. No matter what you may think of the series, "Halo" season 2 is further along than you think which gives fans something to look forward to. 
Advertisement
Unless, of course, the fan in question is YouTuber Angry Joe. For Joe, commenting on the "Halo" series has been an uphill battle. In a recent and lengthy YouTube video, Joe went over all of the details about the numerous alleged blocks and claims his channel has had thrown its way by CBS, the parent company of Paramount+. Those blocks and claims have proven so taxing for Joe, that he's even threatened to take CBS to court.  
Preparing for Battle
According to Angry Joe, CBS has filed copyright claims against his channel on numerous occasions. These claims were allegedly levied against Joe for his use of clips and scenes from the "Halo" series. Of course, this then means that all ad revenue from Joe's videos discussing the show will be given to CBS. In his own words, Joe called CBS out saying, "What you're doing is wrong. Cut it out. Because you're messing with the wrong person. I will blow this up, and we will go to court over this. If you claim this video, I have no other option." Certainly some strong words.
Advertisement
The primary issue for Joe and his fans is that they can't seem to find an example of Joe's channel doing anything wrong. According to Angry Joe subscribers over on Reddit, there are other YouTubers that have uploaded much lengthier and unedited clips from the series straight to YouTube with seemingly zero takedowns or claims issued against them. Meanwhile, Joe claims that he's done everything within his legal rights. Once again addressing CBS, Joe said, "I have edited and edited and edited, which I didn't need to because this is protected under fair use, but I'm trying to play it under your rules, and your rules are bull****. Okay? I won't let you push around any other channels, I won't let you push around our channel anymore."
Advertisement
It remains to be seen what action CBS will take, but it's safe to assume both parties would prefer to avoid a legal battle. The latest entry in Halo's video game series, "Halo: Infinite," isn't the source of legal drama, but a recent leak points to a highly requested new mode for the game's upcoming second season of multiplayer.