Dr Disrespect's Studio Just Added Serious Halo Talent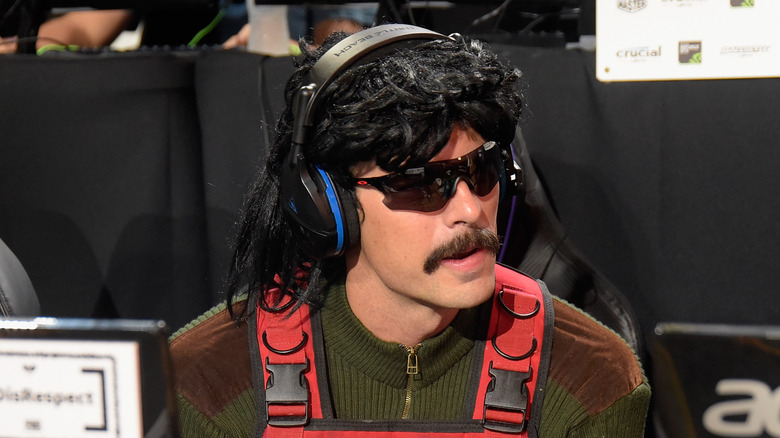 Michael Tullberg/Getty Images
It looks like Dr Disrespect's Midnight Society game development studio is picking up some serious steam, by snagging some talented developers to join the crew. Dr Disrespect first revealed his game studio back in December, announcing his plans to work on a battle royale game currently titled "Project Moon." The studio has received plenty of criticism, since the early access Founder's Pack includes NFTs, which gamers seem to universally hate. The Founder's Pack lets fans help shape the design of "Project Moon" and receive access to early versions of the game.
While "Project Moon" is presumably early in development, since the studio has only existed for a few months, Midnight Society has picked up some serious developer talent to work on Dr Disrespect's battle royale. As announced on the Midnight Society Twitter account, the studio has hired Alex Fennell as its Technical Director of Infrastructure. Fennell has previously worked on "Halo Infinite," "Elder Scrolls," and "The Sims." While Dr Disrespect previously worked as a game developer designing "Call of Duty" maps, some might be skeptical of Midnight Society actually releasing a game. Considering it is hiring veteran developers like Fennell, it seems like Midnight Society has a real shot at actually producing something worthwhile. That being said, Fennell isn't the only employee at Midnight Society with an impressive resume.
Other talent that Midnight Society has acquired
Fennell isn't the only veteran developer that Dr Disrespect and Midnight Society has scooped up recently. Back in April, Midnight Society announced that it hired Jim Gray, who previously worked on "Call of Duty" and one of the many "Star Wars" games, as the gameplay engineering director. Midnight Society's career page currently only has nine open positions, so it seems like the studio isn't struggling to get talent to make "Project Moon."
As for the game that Midnight Society is working on, very little is known about "Project Moon." According to the studio's website, its current project is listed as a community-focused PvP game. It's also being developed on Unreal Engine 5 and those fans willing to sign up early and buy a Founder's Pack can play it early, although Founder's Packs are currently sold out. It's unclear if more will become available in the future. It's important to note that founder's packs will not give any in-game advantage when "Project Moon" officially releases.
While Dr Disrespect's battle royale game is probably pretty far from release, you can get Dr Disrespect in another game. Thanks to some dedicated fans, the two-time champ can be downloaded in "WWE 2K22," getting into the ring before other content creators, like Logan Paul.