Mortal Kombat Movie Sequel Confirms This Fan Favorite Character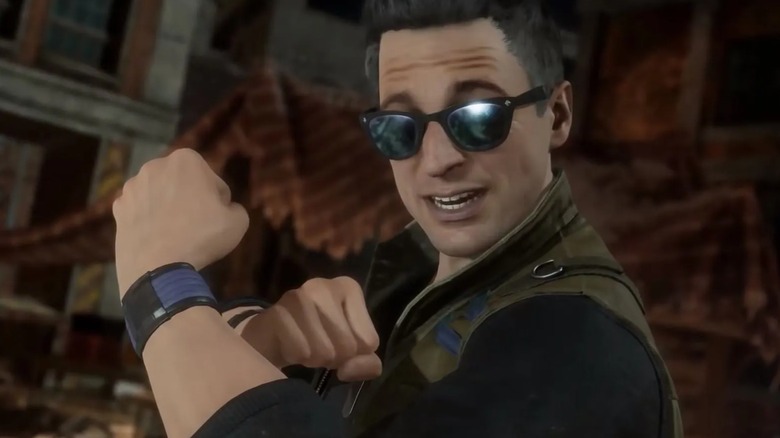 NetherRealm Studios
Unlike the original "Mortal Kombat" movie released in 1995, 2021's "Mortal Kombat" movie (directed by Simon McQuoid) has garnered a noticeably warmer popular reception. The film clinched over $23 million in its opening alone (Box Office Mojo), with many fans speaking positively about its brutal, bloody action, special effects, and character work (Rotten Tomatoes). It currently sits at an 86% audience score on Rotten Tomatoes.
Several months following its box office debut, the highly-rated movie is getting a sequel. The sequel will arrive featuring a different lead writer in one Jeremy Slater, and prepares to continue the stories of Sonya Blade, Shang Tsung, and movie-original fighter Cole Young, a descendant of Scorpion. But like Scorpion, Jeremy Slater has unveiled another series favorite from the original game who will make their greatly-anticipated debut in the current series adaption.
In an interview with ComicBook.com, Slater confirmed the appearance of in-game movie star Johnny Cage in the sequel. What's more, Slater talked about wanting to develop Cage as a fully-realized character, though not necessarily the main character. Producer for the 2021 film Todd Garner came out with his reason not to include Johnny Cage in last year's movie, but it appears Slater thinks differently.
The ending of "Mortal Kombat" 2021 shows Cole making his way to Hollywood to find someone. From there, the movie ends on a poster of the classic Cage belt buckle, underlined with an advertisement for Johnny Cage starring in a spoof of "Citizen Kane."
Cage fights for a role
"Johnny Cage is one of my favorite characters," Slater said, and added: "I think if he wasn't included in the sequel at all, it would feel very strange."
Slater reported he would enjoy crafting "the definitive version" of Cage but clarified he remains unsure at the present how heavily the movie will feature him. The writer behind the well-received "Moon Knight" series also gave an update on the status of the sequel's script via another interview with The Direct, saying he has reached about the halfway point on his work. Slater has apparently made it a priority to collaborate extensively with the creators of the games and keep fan feedback for the last movie at the forefront. He said he aims to create a fun and unpredictable experience for the audience.
"We're really looking at this as a chance to take everything that worked in the first one and do it even better," Slater said. Fans will have to wait for more info on the role of Earthrealm's favorite movie star in the upcoming "Mortal Kombat" sequel. As Slater has revealed, he too is a fan of the character and his beloved, at-times-groan-worthy style of humor.