The Resident Evil Series Is Discussing The Character Fans Really Want To See
"Resident Evil" has received several live-action adaptations over the years, starting with the 2002 "Resident Evil" movie directed by Paul W.S. Anderson. Yesterday, Netflix released a foreboding trailer for the latest adaptation. With the new series, fans will have the opportunity to see a mix of old and new faces returning to Raccoon City (or rather, New Raccoon City) to tackle a zombie cataclysm and the events preceding it. In addition to the mysteriously-alive Albert Wesker and his daughters, another, more recent popular face from the "Resident Evil" games may make an appearance as well.
During a press screening for the new series' first two episodes (per TheGamer), show creator Andrew Dabb explained that the series' story will run concurrently with the events of the games. In other words, the events of the games are considered canon in the world of the new TV series. Dabb clarified, however, that the series tells a completely new story unseen in any of the games.
Responding to a question regarding when the series will take place relative to what happens in "Resident Evil Village," Dabb said the lore of "Village" would feature in the Netflix adaptation. So what does that mean for a certain beloved vampire from that game?
Luck be a (Vampire) Lady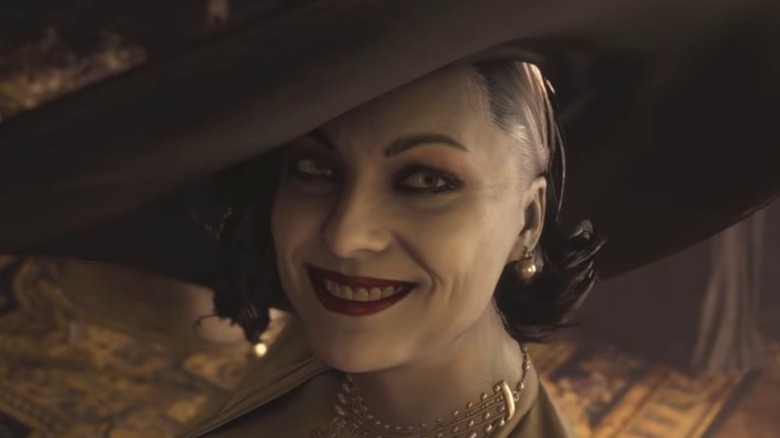 Capcom
Dabb seemingly confirmed that fan-favorite shape-shifting vampire Lady Dimitrescu will remain absent from the first season of the new series, but he said not to rule her out if Netflix approves the show for following seasons. "If we want to put a giant vampire lady in Season 2, we can," Dabb teased. "I'm not saying we're going to, but it's an option."
The 100-year-old vampire captured by English voice actress Maggie Robertson became a breakout star in gaming culture when Capcom first revealed her for the 2021 game. "Resident Evil Village" Art Director Tomonori Takano (via IGN) has described Dimitrescu's inspiration as a mix of vampires in pop culture, historical figures like blood-bathing serial killer Elizabeth Báthory, and Morticia Addams from "The Addams Family," among other references. These inspirations, Robertson's portrayal, and Dimitrescu's character design have led to a ton of fan art, cosplay portrayals, memorable memes, and other celebrations of the character.
Even if the adoration for Dimitrescu has arguably gone too far at times, gamers who enjoyed "Resident Evil Village" would doubtlessly love to see her make her live-action debut in the upcoming TV series, which premieres July 14. "Resident Evil" on Netflix will have plenty of its own villains, following the aftermath of Albert Wesker's death in "Resident Evil 5." His daughters Jade and Billie will also feature as main characters, and fans will learn how Wesker survived (or perhaps returned from death).