After 30 Years, You Can Finally Play This Lost Sonic Level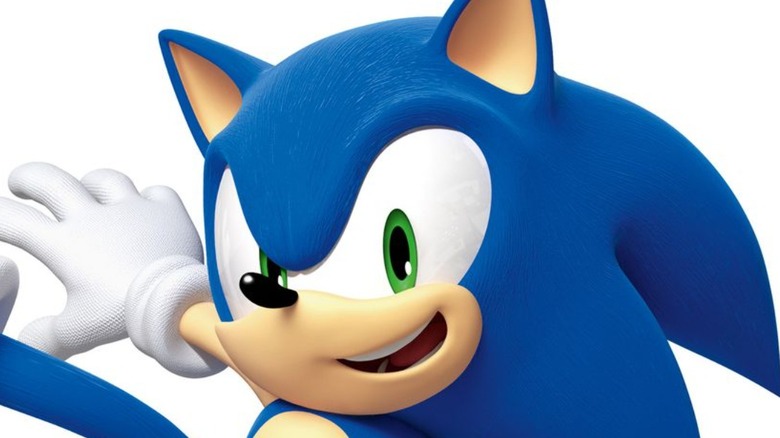 Sega
In the wake of "Sonic the Hedgehog 2" becoming a massive box office hit and popular among critics, the titular anthropomorphic and quick-footed hedgehog has seen a massive resurgence in popularity. But despite being the subject of the highest-grossing video game film of all time, the classic video game franchise centered around Sega's de facto mascot has largely been dormant since 2017's "Sonic Mania." Since then, Sonic the Hedgehog has only appeared in one game, that being crossover sports title "Mario & Sonic at the Olympic Games Tokyo 2020." But while a new AAA title may be some ways off, "Sonic Origins" — a remastered collection of the series' first four games — is due out in June.
However, fans have been divided in their opinion of "Sonic Origins" ever since it was announced. For one, the pre-order tiers have been pretty confusing. On top of that, Sega's decision to pull old versions of the games and essentially forcing consumers to buy "Sonic Origins" as a bundle has also ruffled some feathers, especially when it comes to fans who are passionate about game preservation. Luckily it's not all bad, as the remastered version of "Sonic the Hedgehog 2" will apparently contain a long-lost level that has been missing from the game for 30 years.
New gameplay footage shows a previously cut level from Sonic the Hedgehog 2
Initially intended to be a level in 1992's "Sonic the Hedgehog 2," Hidden Palace Zone was cut late in production and omitted from the game's original release. The level does appear briefly in 1994's "Sonic and Knuckles," but is only a brief passage between the Lava Reef and Sky Sanctuary levels. But judging from the latest look at gameplay clips from "Sonic Origins," it seems that Hidden Palace Zone will be featured as part of "Sonic the Hedgehog 2," allowing the game to be played as it was originally conceived.
On Twitter, a Sonic-dedicated news account called @TailsChannel posted a new video showcasing the remastered titles in "Sonic Origins." Within the footage is a brief bit that shows Tails and Knuckles traversing the Hidden Palace Zone. The level appears to resemble a rocky cave with waterfalls, keeping with the subterranean version depicted in "Sonic and Knuckles." If nothing else, the extras in "Sonic Origins" — which may or may not be locked behind a DLC paywall — may prove to be worth a look for Sonic fans and gaming historians.