The Real Reason GTA Makes Up Its Own Products
Rockstar Games
Rockstar's "Grand Theft Auto" series is known for its satirical take on the world. This may be best exemplified by its brands and franchises, such as the famous Cluckin' Bell and Lifeinvader app, which parody real companies.
There are a few reasons why Rockstar might make up its own labels. First, Rockstar can create a name that functions as a comedic punchline. Second, it saves money by not paying companies for their namesakes. Not all developers take this approach, however. Games like "Fortnite" have had big brand tie-ins, bringing in iconic characters like Predator and Terminator, to name just a few. This decision has undoubtedly proven successful for "Fortnite" as it has become a cash cow for Epic Games.
Rockstar broke from tradition in 2020 by adding two real-world clothing brands to "Grand Theft Auto Online" as part of The Cayo Perico Heist update. The labels were Civilist, a Berlin-based skater clothing line, and MISBHV, a Polish streetwear brand. Since then, there haven't been any new real-world brands added to "GTA Online." Rockstar's parent company, Take-Two, recently shed some light on the lack of collaborations.
Brand collaborations need to fit the setting of GTA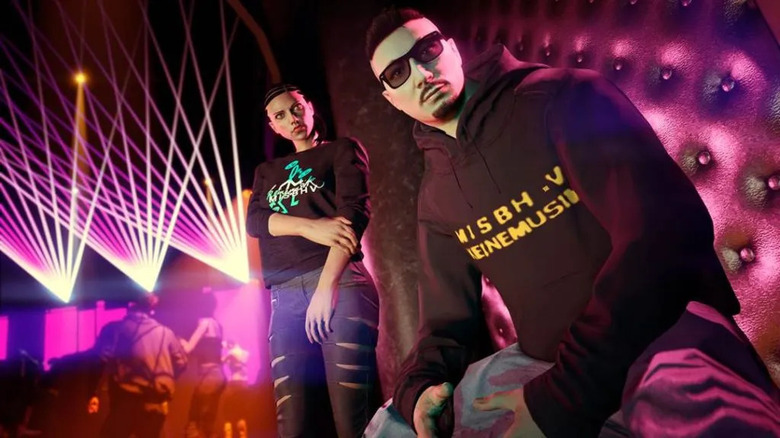 Rockstar Games
On May 17, gamesindustry.biz published an interview with Take-Two CEO Strauss Zelnick. Writer Brendan Sinclair began by asking if Rockstar is planning any more real-world brand collaborations, to which Zelnick replied, "The world of 'GTA' is a fictional world, so to bring real-life brands in, they really have to be iconic and they have to fit within that world." As to why Rockstar hasn't cashed in on any big brand deals yet, Zelnick explained, "It's very much a creative decision driven by the team at Rockstar ... We wouldn't include a brand just based on a financial opportunity in any of our titles."
Zelnick added that there are games where real-world tie-ins seamlessly integrate, such as sports titles like "NBA 2K" and "PGA Tour." He clarified that gamers expect to see real-world ads in those games because the world needs to feel realistic. This line of reasoning makes sense as a McDonald's restaurant, for example, would look out of place sandwiched between a Cluckin' Bell and a Taco Bomb.
"So, to bring a real-world experience in requires a lot of thought and sensitivity to consumers, and I think that's what Rockstar Games is known for," Zelnick concluded the discussion. Fans of "GTA" may be glad to hear this, as the long-awaited "Grand Theft Auto 6" shows no signs of conforming by throwing in every real-world brand that approaches the company for a collaboration. Unfortunately, though, players will likely have to wait a long time for "GTA 6."