Elden Ring Director Thinks This Boss Stands Above The Rest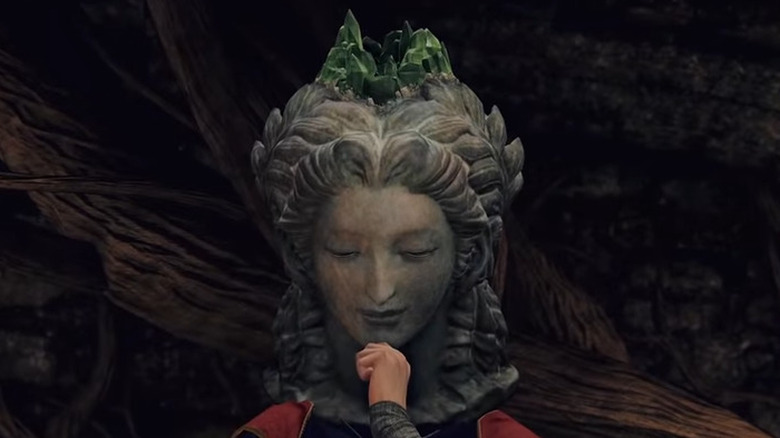 Bandai Namco
Playing through FromSoftware's "Elden Ring" is considered a once-in-a-lifetime experience by critics and gamers alike, and it's in no way a niche title. "Elden Ring" has already sold over 12 million copies worldwide (per Bandai Namco), making it one of the most popular games of 2022. Gamers have cited the carefully crafted visuals and distinctive enemy designs as some of the game's standout features. Specifically, players everywhere were blown away by the abundance of unique boss fights in the game. Although, that's just the opinion of anyone who made it past the game's first boss Godrick, who some gamers found practically impossible.
Advertisement
But "Elden Ring" fans may have noticed that not everyone enjoys the same type of boss fights. Some players enjoyed the sheer difficulty of Malenia, while others relished in the impressive scale of the Starscourge Radahn fight. Unsurprisingly, people were curious to hear what the head developer of "Elden Ring," Hidetaka Miyazaki, considers his favorite boss to be. His answer to the question will likely not come as a surprise to many.
Caelid's most powerful demi-god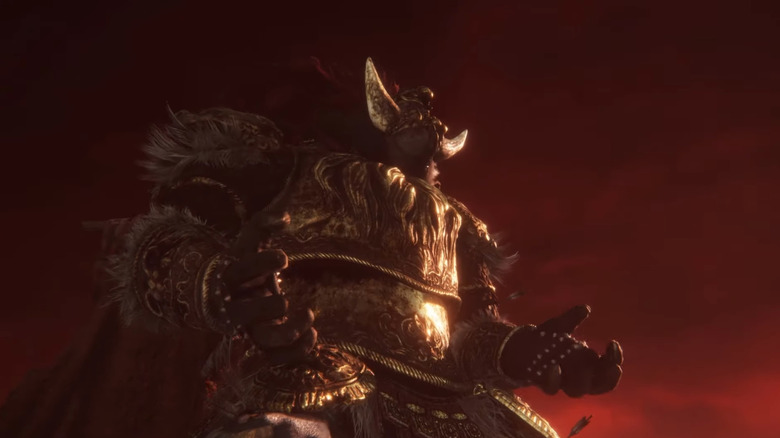 Bandai Namco
In a May 26th interview with Xbox Wire Japan, Hidetaka Miyazaki revealed his favorite "Elden Ring" boss to be Starscourge Radahn (translated by GamesRadar+). Miyazaki defended his choice by stating, "As a single character, he's appealing, but I also like the Radahn Festival." Additionally, the developer mentioned his runners-up for favorite boss as Godrick and Rykard.
Advertisement
As many players already know, Radahn is technically an optional boss, but fighting him is required to advance certain quest lines and unlock Nokron, Eternal City. The fight takes place in one of the biggest arenas created by FormSoftware yet, and the massive size of Radahn makes the player feel tiny in comparison. Thankfully, though, players can summon notable NPCs from the Lands Between to help them take down the warrior.
However, getting Radahn into the game wasn't easy. Miyazaki clarified that there was pushback to adding the boss by his fellow developers, who didn't take it seriously. This wasn't the first time Miyazaki's team wasn't sure about a boss's design. Before the release of "Elden Ring," Miyazaki listed Old Monk from "Demon's Souls" as his favorite boss from the series (per Playstation.blog). As was the case with Radahn, his team was initially skeptical about the creation. 
Advertisement
Miyazaki concluded the interview by stating that the immense popularity of "Elden Ring" will not change how FromSoftware approaches game development, to the relief of many SoulsBorne fans, but players will have to wait around for an "Elden Ring 2" to confirm this.