Capcom Breaks Its Silence On Massive Street Fighter 6 Leak
Capcom's legendary "Street Fighter" series is returning in 2023 with "Street Fighter 6." Recently, Capcom showcased a teaser trailer during PlayStation's State of Play that has people talking. Additionally, Capcom posted a PlayStation blog post that detailed some exciting features in the upcoming game, such as a new drive gauge, real-time commentating, and a new controller scheme aimed at inexperienced players. Capcom also showcased a surprising new adventure mode that could change the series. In it, players can explore a "Yakuza"-esque overworld to take on rival fighters and collect loot.
However, some unconfirmed "Street Fighter 6" leaks have surfaced since Capcom released its trailer. Specifically, in a post on the Resetera forums (and shared wildly elsewhere), user Dale Cooper uploaded screenshots of what looks to be the complete "Street Fighter 6" roster. The alleged roster showcases the artwork of 22 characters, including returning characters: Cammy, Juri, Dee Ray, Ken, Akuma & Ed Rashid, and Zangief.
But that's not all — attached to the screenshots was a video (re-uploaded by Varsona Vyzelta) showcasing what looks to be the main menu of "Street Fighter 6," along with close-up renders of Ken and Cammy. Now, Capcom has responded to the leaks, leaving many believing that they are legit.
Capcom acknowledges the leaks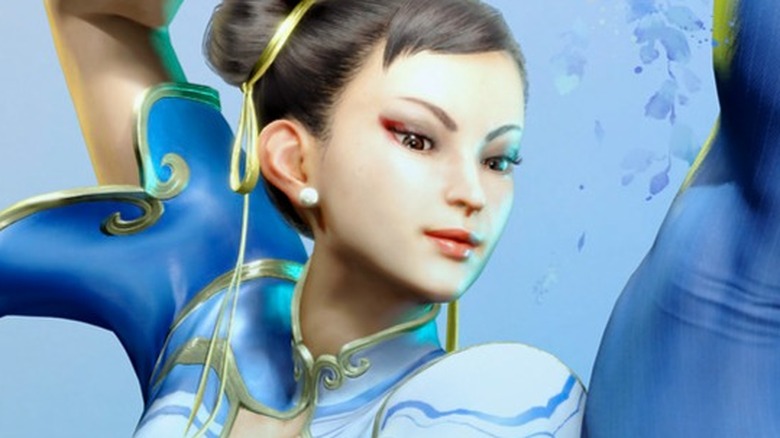 Capcom
On June 3rd, Capcom's official "Street Fighter" Twitter account posted, "As residents of Metro City, we've all seen things we weren't supposed to see, but we're all in this together." Capcom concluded the post by thanking "Street Fighter" fans for their continuous support. Aside from the predictable comments by fans asking why their favorite character wasn't in the leak, the response to Capcom's post was positive. For example, user @UltimaShadowX wrote, "I am sad about the circumstances, but keep up the great work!" Others were too busy discussing Cammy's new outfit to comment on the tweet itself. While it's unclear if the "Street Fighter" leaks are legitimate, Capcom's response seems to indicate — without directly saying — that the character designs are real.
It's hard to say if the leaks will impact the development of "Street Fighter 6," but they will undoubtedly put a wrench in any of Capcom's plans for character reveal content. Capcom might be too busy celebrating the public's reaction to "Street Fighter 6" to care, as fans seem to be enjoying what they have been seeing — aside from the game's weird logo. Of course, players will have to wait until the game launches in 2023 to see if the leaks are legit, but in the meantime, fans can reminisce about how a small arcade game has evolved into the massive series it is today.