Kojima And Xbox's Big Announcement Raises More Questions Than Answers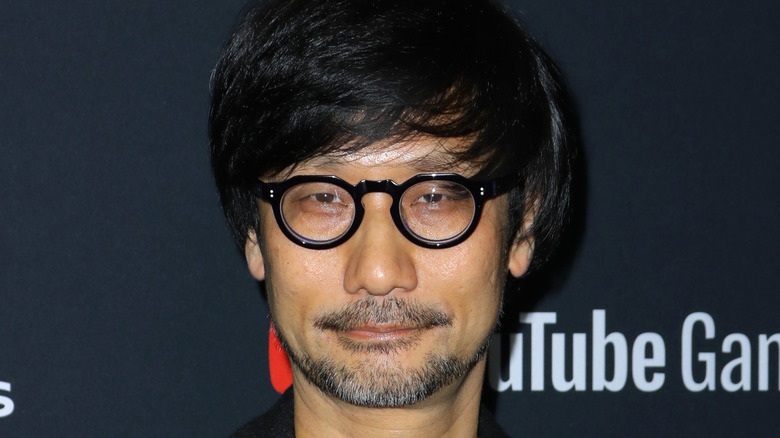 Jc Olivera/Getty Images
Fans of Hideo Kojima's work have been put through quite a rollercoaster in recent months. It seems like every time they turn around, the prophetic video game creator has another project leaked or announced prematurely. Either that, or some wild new rumor hits the scene that alleges Kojima is working on a major IP or the resurrection of one of his canceled projects. So when rumblings began to emerge that Hideo Kojima would be making an appearance of some kind during the Summer Game Fest Xbox and Bethesda Showcase on June 12, it's safe to say that the hype had reached a fever pitch. That's why it was so weird when Kojima's appearance came and went without much in the way of anything concrete.
Advertisement
When Xbox boss Phil Spencer appeared onscreen "to announce a special partnership between Xbox Game Studios and one of the greatest creative minds and innovators in our industry," the internet took in a collective breath and braced themselves for whatever Hideo Kojima and his crew had in store. And sure enough, Spencer gave the floor to Kojima, who calmly revealed that he was teaming up with Microsoft to work on a passion project of his. And then... that was basically it. In a head-scratching turn of events, Hideo Kojima basically showed up during the livestream to tell folks that he would be making a new game — which is something basically everyone already suspected. At this time, there are no real details regarding what kind of game he's making with Xbox, nor when fans can expect to see it in action.
Advertisement
So what did Kojima reveal? And how is this partnership sitting with the fans?
What is Kojima's new project?
"There is a game I have always wanted to make. It's a completely new game that no one has ever seen or experienced before," explained Kojima during the showcase (via IGN). "I've waited very long for the day when I could finally start to create it. With Microsoft's cutting-edge cloud technology and the change in the industry's trend, it has now become possible to challenge myself to make this never-before-seen concept."
Advertisement
He then expressed his excitement to be working with Xbox and said that he'd tell fans more about the game in the future. In other words, fans are still completely in the dark about what this game could possibly be, other than it's apparently a cloud-based title. The distinct non-announcement vibe was immediately the source of numerous jokes on the internet, with fans wondering why Xbox went through the trouble of bringing Kojima out for this appearance at all. Memes quickly followed as people clowned on the very idea of an announcement of an announcement. Others are already up in arms about the idea that Kojima's new cloud-based game will be an Xbox exclusive. As a few fans quipped, Kojima completionists may soon have to invest in one of every console.
Advertisement
Many other fans worried that this announcement meant the end of Kojima Productions' association with Sony Interactive Entertainment. However, the developer quickly released a statement putting those fears to rest: "Please be assured that we continue to have a very good partnership with PlayStation as well." But this still leaves the questions of what Kojima could be planning and how it may figure into his deal with PlayStation.
Kojima already has several rumored games in the works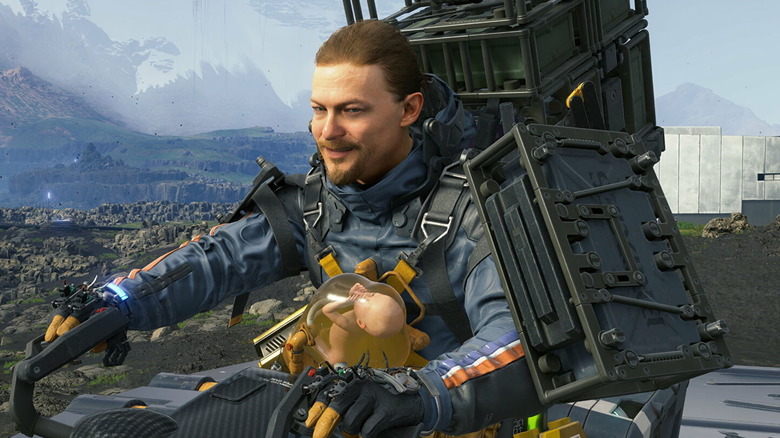 Sony Interactive Entertainment
First things first: There is absolutely no way that Kojima's cloud-based Xbox game is "Death Stranding 2." Although that game's development was recently leaked by star Normal Reedus, "Death Stranding" is still a Sony-exclusive IP, so it's extremely unlikely that the franchise will see any presence on a platform outside of PlayStation or PC for the foreseeable future. 
Advertisement
The most likely candidate for the new project is "Overdose," a mystery project that was leaked just last week. According to games journalist Tom Henderson, this is a psychological horror title starring Margaret Qualley, whom gamers previously saw work with Kojima in "Death Stranding." Not much is known about the plot or gameplay mechanics of "Overdose," but it's pretty typical for Kojima to keep things like that from the public until he's good and ready. Still, fans were surprised not to see any information on "Overdose" during the livestream, particularly after the leaks caused such a stir last week.
Of course, hope springs eternal that somehow Hideo Kojima is finally making a new "Silent Hill" game, which he was supposed to do before his infamous professional split from Konami. Fans got their hopes up a few years ago for a Konami and Kojima reunion, but there's no hard evidence these days that suggests such a partnership. Sorry, "Silent Hill" fans.
Advertisement
As with all things Hideo Kojima, gamers are just going to have to wait until he wants to share more info. Until then, we still have the weirdness of Xbox and Kojima announcing that they want to announce something, someday.