Have Kojima And Konami Reunited?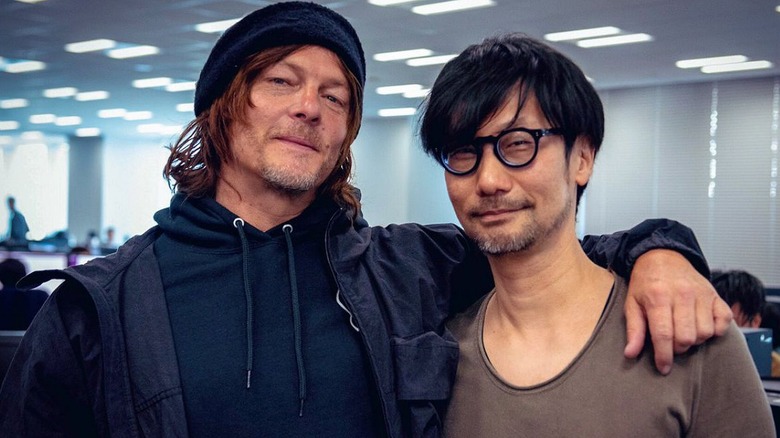 Norman Reedus recent participated in one of Wired's "Autocomplete Interviews," which take questions based on common Google searches about the subject. He had a few interesting things to say in regards to future projects with Hideo Kojima. We've known for a while that Kojima is hard at work on his next game — including a possible Death Stranding sequel that may not necessarily continue the story of the first game. However, the vague hints from Reedus in this interview give us hope that the next Reedus/Kojima collaboration will be something we've waited a long time for.

At one point in the video, the autocomplete question is "why Norman Reedus Death Stranding?" This led to Reedus describing his working relationship and friendship with Hideo Kojima. He explains how they were put into contact by film director Guillermo Del Toro, who previously directed Reedus in Blade 2. Del Toro also had a hand in the production of the game that would have become Silent Hills, a reboot of the classic survival horror series that Kojima was developing at the time.
The only thing to come from this specific endeavor was P.T., a "playable teaser" for Silent Hills that showed off the kind of psychological and supernatural terrors that a Kojima-developed horror game would bring with it. This teaser starred Norman Reedus as a protagonist haunted by visions and ghosts in an apartment building. Unfortunately for players, Silent Hills was the most high-profile victim of a split between Kojima and Konami. 
Though the exact details of the split have never exactly been revealed, there are plenty of hints as to what went down. As Konami made more of a shift to focus on mobile gaming, it seemed like the company placed less and less stock in an auteur like Kojima. All references to Kojima were removed from Konami's website. Following a massive corporate restructure at Konami, Kojima and his team essentially became freelancers for the company, rather than being seen as a full part of Konami.
Eventually, Kojima officially separated himself fully from Konami. Silent Hills was canned and P.T. was taken down from all official channels, no longer available for legitimate download. However, that hasn't stopped players over the years from downloading the game and picking it apart for its various secrets, even managing to explore more of the world outside the apartment seen in the bulk of the teaser.
However, there's reason to believe that perhaps there's a chance of one day returning to the world of Silent Hill with these two collaborators. As Reedus tells the interviewer, "we did Death Stranding which was a huge hit, and we're in talks to do other stuff."
Reedus' comments come amidst rumors that Konami is exploring new avenues in the Silent Hill franchise. In January, noted video game info leaker AestheticGamer reported that Konami might be developing two new Silent Hill games. 
"Konami about two years ago reached out to various developers to pitch ideas for two Silent Hill games," explained AestheticGamer at the time, "one a soft-reboot of the franchise, the other an episodic TellTale/Until Dawn-style game to go alongside the reboot."
There have also been recent rumblings that Kojima Productions may be working on a new Silent Hill game, thanks to tweets from the Kojima Productions English language Twitter account. In these, head of communications Aki Saito posted a photo of himself writing with a pencil that had the word "pyramid" on the side, which some fans took to be a reference to infamous Silent Hill monster Pyramid Head. On top of that, Saito apologized to fans for being "silent," on account of how busy he had been. 
When considering the long and storied history involving Reedus, Kojima, and the Silent Hill franchise, it's hard not to wonder if Kojima himself might be one of the "various developers" that Konami supposedly reached out to.
After all, people are still invested in P.T. and what Silent Hills could have been. It's not much of a stretch to wonder if Konami would have some interest in extending an offer to Kojima to pick up where he left off. This is especially true following the high profile success of Death Stranding and Kojima's recent BAFTA Fellowship award.
Even from a business standpoint, it makes total sense. Silent Hills has long been a passion project for Kojima. Now would be the perfect time for Konami to capitalize on his recent successes by extending an Olive branch and resuming work on a game that so many people want to play.