Resident Evil Village Is About To Look Completely Different
Capcom
Fans have waited roughly a year for the promised "Resident Evil Village" DLC, which was announced shortly after the game launched. "Village" quickly morphed into one of the best-selling entries in the series to, as Capcom has happily recognized. The studio first told fans that DLC for "Village" was on its way during Capcom's E3 2021 showcase, but only now have gamers gotten a significant look at the upcoming "Winters' Expansion," which will launch alongside "Resident Evil Village: Gold Edition" later this year.
Advertisement
As detailed during the Capcom Showcase on June 13, "Village" will be returning to the roots of the "Resident Evil" series with the option to switch the game to a third-person perspective when controlling protagonist Ethan Winters (still no word on whether or not you can see his face, though). The DLC will arrive October 28 alongside new content for the "The Mercenaries" mode and an add-on adventure starring Ethan's daughter, Rose Winters, who has grown into a troubled teenager in the years since the game ended. Here's how "Resident Evil Village" is about to change forever.
Following behind Ethan Winters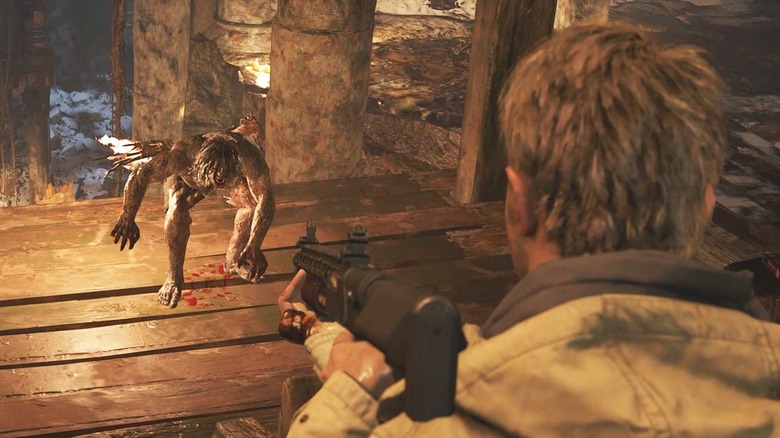 Capcom
"Village" Producer Tsuyoshi Kanda thanked the fans for the success of the game before moving onto the new content announcements, including Ethan's exciting shift to third-person. Kanda elaborated that he received a lot of requests for this option.
Advertisement
"Now, you'll be able to see Ethan as he desperately fights for survival," Kanda narrated over gameplay. "Players that have already experienced Ethan's journey can enjoy a new perspective and animations too." Footage captured the protagonist shooting down enemies with firearms, vaulting over obstacles, and even receiving a deadly "kiss" on the neck from one of Lady Dimitrescu's daughters — all in third-person.
The showcase also unveiled new content for "The Mercenaries" mode of play. Namely, "Resident Evil" series icons Chris Redfield, Karl Heisenberg, and Lady Dimitrescu herself will become playable fighters. Capcom's largest addition to the game, however, is the new "Shadows of Rose" chapter, putting players in control of Rose Winters in her own adventure. The add-on will be played in third-person, as well.
Advertisement
"Resident Evil Village: Gold Edition" will release October 28 alongside the "Winters' Expansion" DLC, which includes the third-person mode. Players can either purchase the DLC separately or as part of the "Gold Edition" package. For gamers who got more enjoyment from the perspective of older games like "Resident Evil 4" or the "Resident Evil 2" remake, the third-person DLC for "Resident Evil Village" and the "Shadows of Rose" DLC appear to cater to that demand. Playing through Ethan's adventure at this angle will likely feel like a whole new game.