Sonic Frontiers Writer Reveals The Biggest Difference With This Game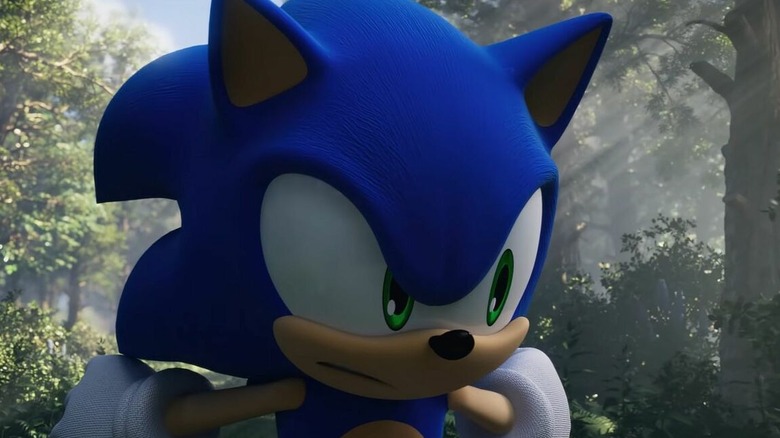 SEGA
Officially announced at the 2021 Game Awards, "Sonic Frontiers" is the latest full-length mainline "Sonic" game and is slated for release in the last quarter of 2022 for every major gaming platform. SEGA released a gameplay sneak peek on June 2 (via IGN/Youtube) to a less than enthusiastic response. The infamously passionate "Sonic" fanbase was concerned by the lack of what they see as the franchise's core personality in the gameplay footage so close to the release date. Fans were so unimpressed that they started calling to have the game delayed so that they would be able to see a better, more polished final product.
Advertisement
Unfortunately for those fans, the #DelaySonicFrontiers hashtag that called for sleeker gameplay with a speedier feeling — a feature quite quintessential to the franchise — was met with a statement from studio head Takashi Iizuka stating that the game's release would proceed as planned. While it seems the gameplay and animations will remain unchanged, longtime "Sonic" comic book writer Ian Flynn chimed in to reassure fans and shed some more light on what will really set "Frontiers" apart: a non-linear, in-depth story that'll bring the franchise's first ever open-world adventure to life.
Designed by a fan, for the fans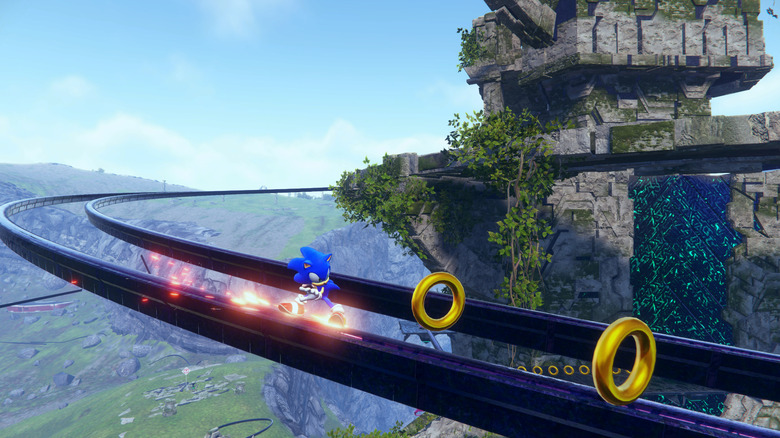 SEGA
In an interview with IGN, Ian Flynn laid out the basic premise of the story: Sonic must explore the Starfall Islands to rescue his friends and uncover the mystery that brought them all there in the first place. According to Flynn, SEGA approached him first with a complete set of specific concepts to work on. This is a major difference from his experience writing "Sonic the Hedgehog" comics for IDW, when he's typically the one drafting and pitching all of the stories. 
Advertisement
It also seems the drastic change in design was a clear vision in the making — the story had to be adapted to the nature of open-world exploration, where no two players would necessarily begin or progress the story at the same pace. Flynn also noted that the story would be taking on a more melancholy and somber tone overall, pushing Sonic's signature optimism to the limit as he deals with the tragic backstory of the islands themselves, as well as the less-than-ideal outcomes and consequences of his adventure.
A longtime fan of the series himself, Flynn cites the fanbase as a "constant source of inspiration" and expressed a hope that they would enjoy the individual character arcs and connections to the rest of the franchise. Hopefully, this foray into creating a new kind of "Sonic" experience will pay off, but only time will tell. 
Advertisement
"Sonic Frontiers" is currently slated for a Q4 2022 release on PS4, PS5, Xbox One, Xbox series X|S, and PC.