TikToker Clears The Air On MrBeast Pay Dispute
MrBeast – a.k.a. Jimmy Donaldson – has a reputation for being generous, but he also has shown a shady side on occasion. The YouTuber frequently does damage to his bank account with his massive giveaways, but allegations from former employees and collaborators have indicated that MrBeast might not be as giving off-camera as he is on-camera.
Recent reports allege that the viral YouTube star has failed to pay people who worked on his videos in the past, sometimes passing off their long hours and creativity as the work of his celebrity group of friends or himself. One of the latest accusations came from Artisan Cake Company founder Liz Marek, who goes by SugarGeekShow on TikTok. Early in June 2022, Marek posted a video of her sitting on an enormous cake shaped like a toilet and eating a cake disguised as a roll of toilet paper.
In a voiceover, she explained that she was asked to make the cake as proof that she could make a realistic toilet cake, under the promise that she'd be hired to create a cake for a popular YouTube creator if successful. And even though she did make the cake requested of her, Marek said, the producer of the video then showed her video to another baker, who instead made the toilet cake for that unnamed YouTuber. Market commented on the TikTok, "This video is purely as a warning to other creators to get a contract before doing work. It's not here to go hate on anyone or try and sue." 
Many viewers immediately thought they knew who was behind Marek's woes: none other than MrBeast. The tale only got wilder from there.
MrBeast allegedly didn't pay a creator for her work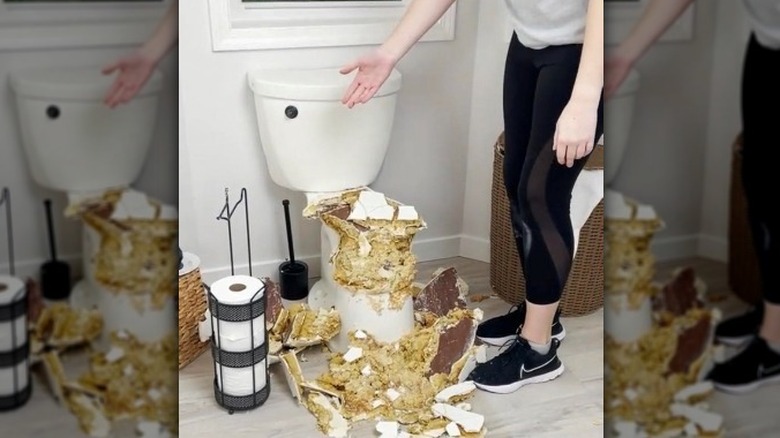 SugarGeekShow/TikTok
In a later video, Liz Marek updated her viewers on the incident, confirming that the creator she was hired to work with was indeed MrBeast. Marek explained that she hadn't expected her video to gain so much traction on TikTok, and that she wasn't intending to send hordes of negative attention to MrBeast. "I felt kind of bad," Marek said. "Because my intention was not to cancel MrBeast. I don't know him. I never met him. He seems like a good guy."
Marek further explained that the night before the update was recorded, MrBeast had called her to personally discuss the incident, and they both agreed that it was a case of miscommunication. The two "came up with a plan to resolve the issue," and in a comment, Marek clarified that part of that plan involved MrBeast paying her for her time and materials.
MrBeast allegedly used Marek's video to show Natalie Sideserf – the celebrity chef ultimately hired to create the toilet cake – how to construct the cake he needed for his video. Of course, Sideserf is an accomplished realistic cake artist all on her own. She posted a video confirming that she created the toilet cake for MrBeast's chocolate factory video with Gordon Ramsay, in which he recreated Willy Wonka's famous factory, complete with edible decor. The comments on the video included several users arguing that Marek made the cake first.
Even though Marek didn't wish any ill will toward MrBeast or Sideserf, it seems like this incident might be part of a larger picture, at least according to other recent reports.
Other allegations against MrBeast have surfaced
On May 4, 2021, a profile of MrBeast in the New York Times alleged that the working conditions of MrBeasts warehouse – as well as his several businesses – aren't ideal. Taylor Lorenz spoke to former employees of MrBeast, who claimed that it was difficult to work for the YouTube star. In addition to demanding perfection from his employees, MrBeast allegedly refused to credit his employees for their work on his massive video projects. A video editor for MrBeast similarly claimed that he quit his job after only one week, arguing that the hostile work environment led him to make a hasty exit.
The New York Times profile also commented on MrBeast's early content, in which he sometimes used gay slurs. While MrBeast did not consent to an interview with the New York Times, a representative said that now that he's older he no longer uses that sort of language in his content. MrBeast has declined to discuss the allegations from his former employees, nor has he mentioned the toilet cake incident in any official capacity.
Even though the situation between Marek and MrBeast could be, as Marek said, an unfortunate bit of communication, the allegations against the philanthropic creator appear to go much deeper than cake. Fans will have to wait to see if MrBeast directly responds to these allegations.