The Fall Guys Clone That Mobile Gamers Can't Stop Playing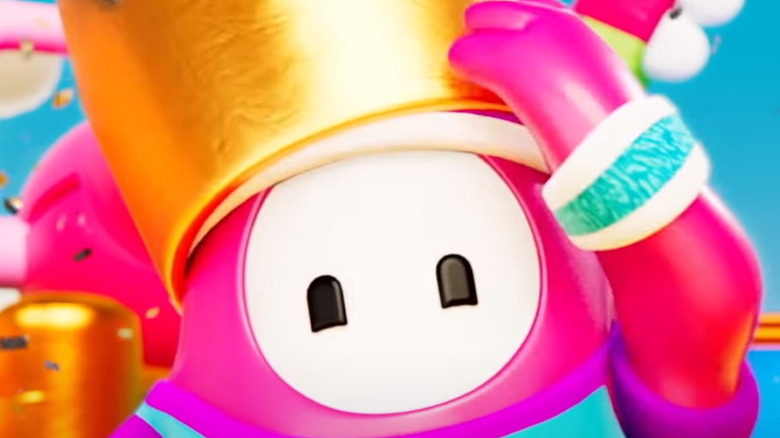 Epic Games
In "Fall Guys," players compete in a variety of minigames to become the last person standing. First released in 2020 on PC and PS4, "Fall Guys" blasted in popularity, breaking records on PlayStation Plus. Later, it released on every current-gen console, including the Nintendo Switch, PlayStation 5, and Xbox Series X|S. In 2021, "Fortnite" publisher Epic Games acquired "Fall Guys" and made the title free-to-play. This boosted its popularity further and saw the multiplayer entry pull over 50 million players in two weeks (via Twitter).
"Fall Guys" is still nowhere to be seen on both iOS and Android devices, and other developers aren't shy about filling this gap in the market. There are dozens of mobile knockoffs of "Fall Guys" available, such as "Fall Beans" and "LOLBeans.io." However, according to July 2022 reports, one "Fall Guys" mobile clone stands above the rest, pulling in a large amount of players and money.
Stumble Guys has taken over the App Store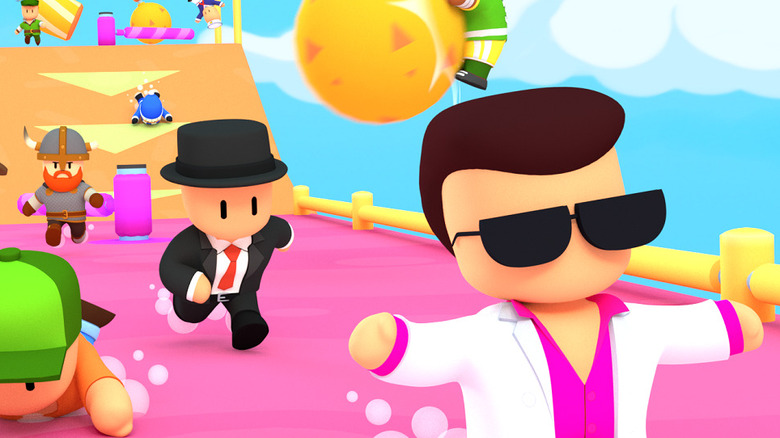 Kitka Games
As reported by mobilegamer.biz, statistics gathered from the mobile marketing intelligence tool Appmagic revealed "Stumble Guys" as one of the most popular apps on Android and iOS. Created by Kitka Games, "Stumble Guys" is an unapologetic knockoff of "Fall Guys," featuring strikingly similar game modes, mechanics, and battle passes. "Stumble Guys" first launched only two months after "Fall Guys" in 2020 and garnered moderate success, but the number of players has since skyrocketed. Consequently, "Stumble Guys" became the number one free iPhone game in the UK and US as of July 2022.
According to Appmagic, "Stumble Guys" averaged around 300-500k downloads daily between January and March. On June 25, the game experienced peak download numbers of 1.5 million. As a result, the total number of "Stumble Guys" downloads across both platforms is estimated to be over 163 million. More downloads mean more players, with Kitka Games' website claiming over 18 million daily players.
These downloads are bringing in big money for Kitka Games. Although "Stumble Guys" is free, its in-game store offers players cosmetic enhancements to their characters. Appmagic claimed that "Stumble Guys" raked in roughly $6.6 million during June alone. This puts the "Stumble Guys" total revenue at over $21.5 million at the time of this writing. Undoubtedly, this will come as a surprise to many, as "Stumble Guys" started as nothing more than a mobile game knockoff of "Fall Guys." Maybe Epic Games will take a look at these statistics and release an official "Fall Guys" mobile port.