Fall Guys Just Set A Crazy Record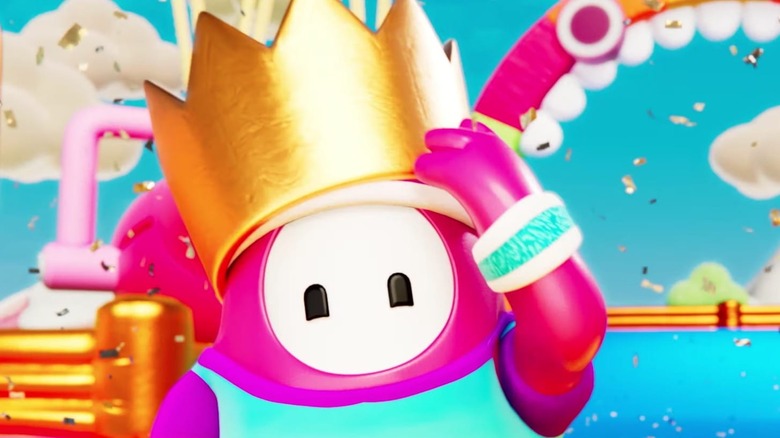 Fall Guys: Ultimate Knockout has become something of a phenomenon in a very short amount of time. The game was launched on Aug. 4 and has already amassed quite a following among gamers and streamers alike. Now it turns out that Fall Guys: Ultimate Knockout has already surpassed expectations and set a new record for PlayStation.
Advertisement
According to a recent tweet from the official PlayStation Europe Twitter account, Fall Guys is officially the biggest release in PlayStation Plus history. The tweet from Aug. 26 read, "As of today, Fall Guys is the most downloaded PS Plus game of all time on a global basis. Congrats to @Mediatonic!"
It's pretty impressive to note that Fall Guys has attained this figure on a global scale, not just in certain territories. The free games given to PS Plus subscribers tend to drum up some serious numbers, but it's worth remembering that Fall Guys was added to PS Plus on its actual launch date. This was a bit of a controversial decision, especially among PC gamers who had already preordered the game through Steam. 
Advertisement
Still, it shows how excited gamers are for all things Fall Guys, since other games that have amassed a significant number of downloads through PS Plus were titles that already had a large built-in fan base. According to an infographic published by Sony earlier this year, the five most downloaded PS Plus games of all time (as of July 2020) were Call of Duty 4: Modern Warfare Remastered, Sonic Forces, Shadow of the Colossus, Call of Duty: Black Ops 3, and Destiny 2. Three of those games have massively popular multiplayer components, one is a well-regarded sequel to a long-running franchise, and one is widely held to be one of the best video games of all time, so it makes sense that those five games would take the top spot. The fact that Fall Guys is able to hold its own in an arena with these massive titles is a testament to its success. 
According to publisher Devolver Digital, Fall Guys' Steam sales are also rather impressive, as well. Devolver commended Mediatonic on the fact that Fall Guys: Ultimate Knockout had officially crossed over 7 million copies sold on Steam, calling it "An amazing accomplishment from a wonderful group of folks."
This has been a big year for games breaking all kinds of sales and player records. Earlier this year, Steam managed to break its record twice in a week for the largest number of concurrent players. This was most likely due to the number of people staying indoors as a result of health and safety regulations, but it's still an impressive feat. Perhaps Fall Guys on PC is drafting on some of those big Steam numbers. There are certainly a lot of people playing video games right now.
Advertisement
It was recently announced that Fall Guys: Ultimate Knockout will be extending its reach to other platforms, although there is a catch. Chinese entertainment company Bilibili has licensed a mobile version of Fall Guys for release in that country. This is an especially big deal, considering China's history of banning many games outright within the country. However, it also means that Fall Guys will have an opportunity to reach a massive new audience that many games in the states never quite get the chance to meet. It may end up being difficult to find out exact download numbers from China when this version of the game launches, but Fall Guys' universal appeal among gamers will most likely translate to some serious sales.
It is unclear at this time if the mobile version of Fall Guys from Bilibili will be paving the way for a mobile version in the United States. However, if that is indeed the case, then Fall Guys may be poised to make the same kind of download and revenue numbers as other successful mobile ports for battle royale titles. It was recently reported that the mobile version of Fortnite had pulled in over a billion dollars since its launch, proving that there is most definitely a market for something like this.
Advertisement
In the meantime, the official Fall Guys Twitter account has been celebrating the latest news, tweeting, "Completely blown away by this! Its so amazing and overwhelming to see how many people, of all ages, all around the world, have been enjoying Fall Guys! The whole team at @Mediatonic and @devolverdigital are super grateful to you for your support!" Keep an eye out for more news on Fall Guys in the future. This seems like a game that's going to stick around for a while.