The Real Reason Myth Left Twitch For YouTube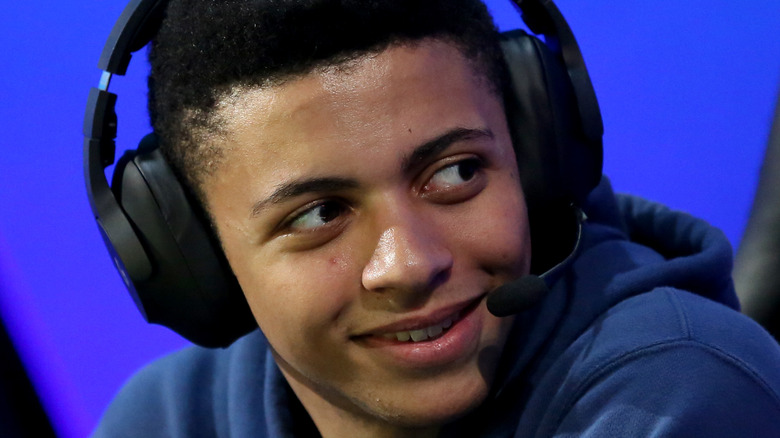 Gabe Ginsberg/Getty Images
Ali Kabbani, better known as Myth, has joined the ever-growing list of ex-Twitch streamers who decided the Amazon-owned platform had stopped meeting their needs. Just days after LilyPichu announced her departure from Twitch, Myth followed suit. With fellow streamers responding in support of Myth's decision, he posted a video looking back at the major decisions that shaped his career. 
Advertisement
"I could have given up when I was uncertain about my future as a streamer, even after years of hard work," Myth narrated. "Or I could have never started at all." Evidently, these alternate realities never came to pass. But Myth has expressed disappointment in his past two years of streaming, and that disappointment played a partial role in his transition to YouTube.
Myth's response has somewhat differed from other popular streamers who've abandoned Twitch. LilyPichu reported leaving due to feelings of becoming stagnant both financially and creatively. Other streamers, like Sykkuno, have said that they felt unvalued and neglected by Twitch leadership. Myth's decision to leave shared similarities with these, but he did not lead by calling out Twitch directly. The prominent streamer spoke this week in a YouTube livestream about wanting a new environment in which he felt welcome to be himself. He has also expressed a hope of creating the kinds of content he felt too shy to make in previous years.
Advertisement
How YouTube supports Myth
"I'm very honest with myself, I'm very critical of myself," Myth said in his first YouTube livestream. "I know that the past two years hasn't been the most engaging in terms of content for myself, but I see this transition as a great opportunity to kind of switch that around." He described having a shift in what he wanted out of his streaming career. Namely, he has resolved to take streaming more seriously than before. "I was in an unmotivated, yucky mindset where I was really afraid of doing the things that I wanted to do because I was afraid of peoples' opinions," Myth further explained to his YouTube audience.
Advertisement
Beyond finding his confidence, Myth talked about how the YouTube team welcomed him with enthusiasm. The streamer described feeling valued and understood by YouTube. "I actually feel like I'm wanted here," Myth explained. "It's nice having a relationship with whoever you're working with where you're both excited to work on something together." He thanked members of the YouTube crew present in-chat, as well as fellow YouTube streamers Valkyrae, Ludwig, and Karl Jacobs, who all helped him arrive at his decision to accept YouTube's offer.
Myth expressed palpable excitement to begin the next phase of his career. In the immediate future, he plans to stream more "Valorant," "Apex Legends" and other shooters, and he will happily join Sykkuno and Ludwig for games like "Fall Guys" and "Among Us." It looks like this is the start of a brand new day for Myth.
Advertisement