This Stray Modder Is Making Cat Owners' Dreams Come True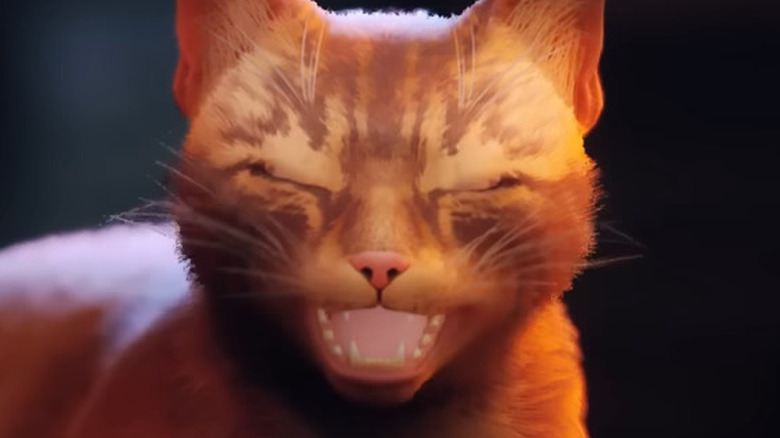 Annapurna Interactive
Gamers and cats alike can't seem to get enough of "Stray." Released on July 19 by BlueTwelve Studio and Annapurna Interactive, "Stray" captivated critics with its cute premise and surprisingly complex gameplay. Who can pass up the thrill of meowing and knocking objects off shelves like a true cat? But gamers who wanted to play as a cat much closer to their own beloved felines may have been disappointed to find out that the playable cat in "Stray" can't be customized.
Advertisement
However, since its release, mods have surfaced for the game's PC version that allow players to change the color of the feline protagonist. One of these mods even transforms the playable cat in "Stray" into the protagonist of "GTA: San Andreas," and the results are horrifying. However, any cat model found online likely won't be entirely accurate to someone's real-life furbaby, and one modder wasn't satisfied with this restriction. Here's how one "Stray" modder is making the game feel even cozier for some of its biggest fans.
Gamers are playing as their own cat
One talented modder going by the username Norskpl is making waves in the "Stray" modding community by providing a very particular and wholesome service: Norskpl is taking design requests from players to create and import custom cat textures into "Stray." And of course, people are using this as a way to get their own real-life cats recreated as playable characters in the game. This service is performed on a name-your-own-price basis, so users can tip the modder on their Ko-fi account for their chosen amount.
Advertisement
The modder's "Stray" NexusMods page is already full of cat design requests uploaded to the site for both the requester and others to download. These include a liberty Maine coon, a pink sphynx cat (with fur textures disabled), and plenty of black cats with different eye colors.
However, due to the huge influx of commission requests, users will need to wait a while to get any new commissions satisfied, as Norskpl recently announced that they would suspend the acceptance of further requests for two weeks while they catch up. It's very like that other modders will pop up on NexusMods to offer a similar service, so anybody interested in getting a custom cat design into "Stray" should stay tuned.
Advertisement
Unfortunately, "Stray" mods are only available on PC at this time. Still, PC gamers everywhere are having a blast fulfilling their dreams of playing as their very own cat in a video game.