Bayonetta 3 Trinity Masquerade Edition: What's Included?
We may receive a commission on purchases made from links.
First hitting shelves in 2009, "Bayonetta" wowed gamers with its tight controls and exciting rating system combat that similar to the "Devil May Cry" series. And that was no coincidence, as "Bayonetta" was the brainchild of "Devil May Cry" creator Hideki Kamiya (Per Platinumgames). But of course, it wasn't just the gameplay of "Bayonetta" that drew players in.
The game's protagonist is nothing short of stylish, with many even calling her one of the sexiest female characters of all time (via Levelskip). The character's popularity even landed her a spot on the "Super Smash Bros." roster. Unlike previous entries in the series, "Bayonetta 3" will feature an optional family friendly mode that's raising a few eyebrows.
Still, fans everywhere are excited to get their hands on this next chapter of "Bayonetta" when it launches on October 28. But first, they will have to choose which of the three versions of the game is right for them. These three versions are Standard, Digital, and Trinity Masquerade Edition. Both the Standard and Digital editions will be $60 at launch, with the Standard Edition being a physical copy of the game. In contrast, the Digital Edition is downloaded directly onto a device. The Trinity Masquerade Edition, on the other hand, will sell for the premium price of $90 and brings with it a few physical goodies that will undoubtedly tempt any "Bayonetta" superfan.
What Does Bayonetta 3 Trinity Masquerade Edition include?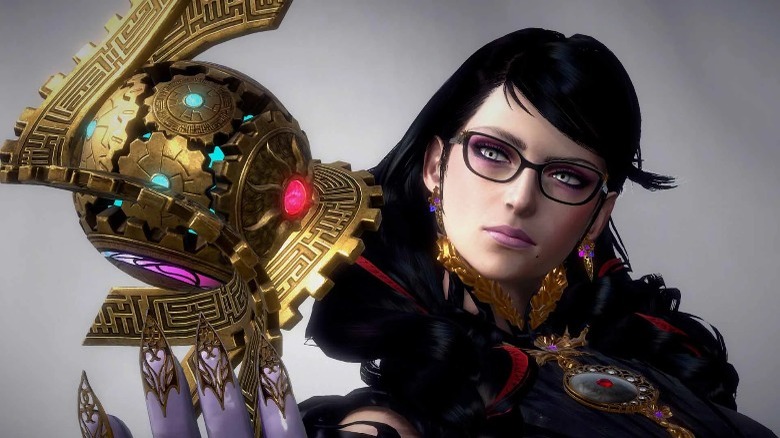 Nintendo
The "Bayonetta 3" Trinity Masquerade Edition will, of course, include a physical copy of the game for Nintendo Switch, but for this edition's premium price, a few extra physical items are included. These items include:
Three alternate game covers, which give gamers the ability to customize the game's case via an included reversible title cover. Additionally, the Trinity Masquerade Edition includes alternate title covers for "Bayonetta 1" and "Bayonetta 2." Each title cover features Bayonetta striking a unique pose, and when displayed together, the three cases display a panoramic artwork.
A 200-page artbook features colored art from the complete "Bayonetta" trilogy. Although the finer details of the artbook haven't been released, the preview image reveals a "Bayonetta" character design accompanied by text.
Although an artbook and some reversible title covers may not seem like much to some, gamers should note that the Trinity Masquerade Edition is only 30 dollars more than the Standard Edition. A low price compared to some of the other collector's Editions on the market, such as the "God of War: Ragnarok" Collector's Edition that retails for $200. That being said, any gamer interested in picking up the "Bayonetta 3" Trinity Masquerade Edition should act fast, as it's in limited supply.