This Waluigi Bachelorette Party Is Taking TikTok By Storm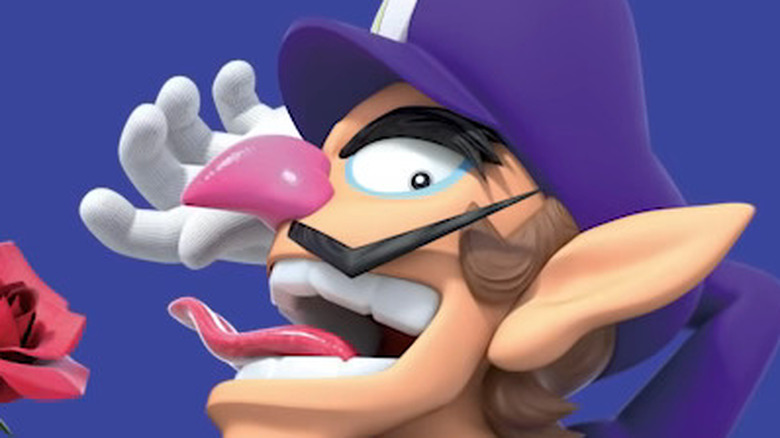 Nintendo
Waluigi is one of the most bizarre characters in the "Super Mario Bros." universe. For the uninitiated, Waluigi is the evil version of Luigi, in the same way that Wario is the evil version of Mario. His name is even a portmanteau of "Luigi" and the Japanese word for "bad." Although the character first appeared in "Mario Tennis" back in 2000, Waluigi has only ever been playable in Mario spin-off titles, yet to have his big break in the main "Mario" franchise. But, that hasn't stopped gamers from obsessing over the lanky purple villain.
Over the years, there's been plenty of love and thirst for Waluigi thanks to his meme-able persona. Fans even petitioned for the character's inclusion in the "Super Smash Bros. Ultimate" roster, but unfortunately, all players got was total nightmare fuel.
Thankfully, the internet is also used by people who want to utilize Waluigi for good. Recently, one gamer decided to do just that, and decided Waluigi would become the perfect character theme for a group of bachelorettes — and it has TikTok going wild.
Multiverse of Waluigis
In a TikTok by cherriesorbet, attendees of a bachelorette party are seen showcasing hilarious Waluigi-themed outfits. The outfits include Cowboy Waluigi, Pirate Waluigi, and even an appearance by Elvis Waluigi. There's also an additional video where viewers can get a closer look at the creative outfits, as the attendees discuss who they believe would be the drunkest by the night's end.
Soon after the video took off, the bride-to-be uploaded a follow-up guide on how the party came to fruition, and how they created the incredibly detailed Elvis Waluigi costume — complete with the original sketch of her "Wah-sona." For inspiration, cherriesorbet told Kotaku, "I knew when I was thinking about my future bachelorette party that I wanted to do a chaotic costume night." Cherriesorbet went on to say that she wanted to do something she'd never seen before. The TikToker explained that some of her attendees were initially hesitant, but came around in the end. She even went as far as to display a PowerPoint presentation to her friends to detail what kind of party she wanted ... and to help convince them.
Cherriesorbet felt that the whole experience was pleasant, and she and her friends received no shortage of surprised reactions while bar hopping. Considering the popularity of the TikToks, it wouldn't be surprising to see more Waluigi-themed parties cropping up across the internet in the future.