What The Critics Are Saying About Rollerdrome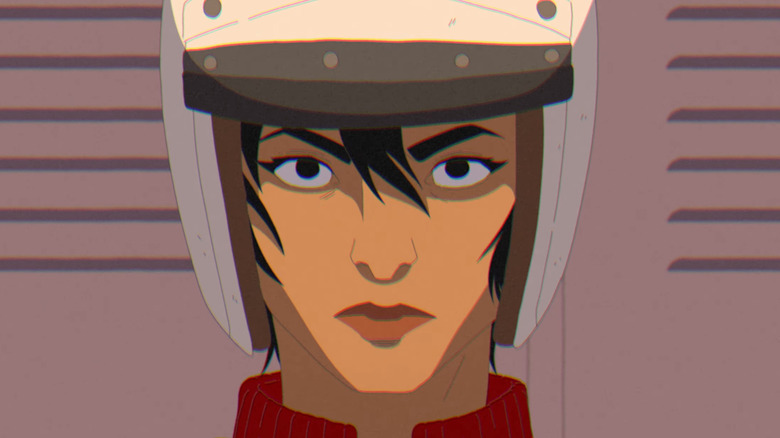 Private Division
Roll7's "Rollerdrome" is now available on PS4, PS5, and Steam (sorry, Nintendo Switch and Xbox Series X|S gamers), but it may have skated under the radar for many. Gamers may know indie developer Roll7 for fast-paced skating games, including "OlliOlli World," and "Rollerdrome" follows in the footsteps of Roll7's previous work with its cell-shaded art style and skating gameplay — but with one major change-up. In "Rollerdrome," players are not only equipped with a pair of skates, but also a sizable arsenal of weapons. Gameplay consists of players skating across an arena while using their guns to take out foes with the help of "Max Payne"-esque slow-motion mechanics. Between gunshots, players must pull off skate tricks to build up their score and earn additional ammo.
The story of "Rollerdrome" is also unique. Players are dropped into a distant future in which corporations rule, and a new blood sport called Rollerdrome emerges. Players will need to skate and shoot their way through the story to discover the true intentions of these ever-powerful corporations.
Players can pick up "Rollerdrome" for a special $19.79 price on their respective digital stores during the first two weeks of release. After that, it raises to $30. And now that reviews for "Rollerdrome" have made their way online, it's time to find out if "Rollerdrome" is worth either price. Here's what critics are saying about "Rollerdrome."
Reviewers agree that the gameplay of Rollerdrome is worth the price of admission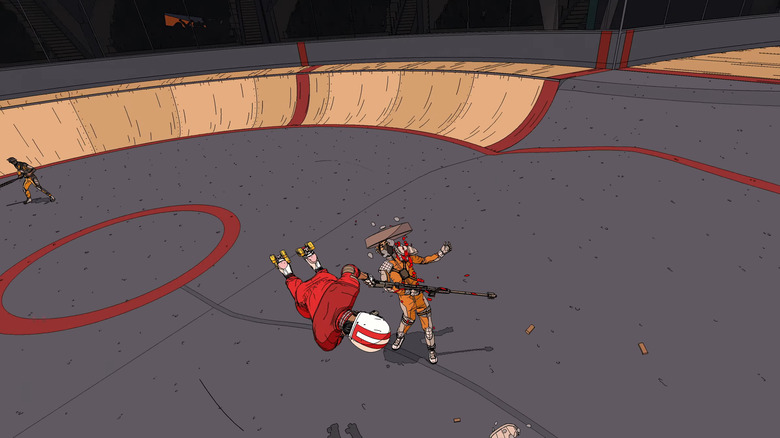 Private Division
Gamespot's Phil Hornshaw awarded "Rollerdrome" an 8/10. Hornshaw praised the game's combat, noting that it's as much about clever tactics as it is about aim. He also applauded the skating mechanics of "Rollerdrome," writing that pulling off tricks further heightened the experience and never felt like a chore. However, Hornshaw wrote that the narrative left him wanting.
Jon Bailes of GamesRadar gave "Rollerdrome" a 3.5/5. Like Hornshaw, Bailes enjoyed the game's unique combination of skating and shooting. Bailes also wrote that the visuals and soundtrack complemented the gameplay perfectly. However, the reviewer wrote that "Rollerdrome" started to recycle enemies and arenas after a certain point, making for a stale experience during the later portions of the game. 
Game Informer's Andrew Reiner handed "Rollerdrome" an 8.5/10 score. Reiner praised the game's tight controls and exciting gameplay. Reiner also noted that the later stages started to frustrate them, but they found the additional challenge enjoyable. Reiner, like the other reviewers, wrote that the game's story didn't quite add much to the experience. On the other hand, Eurogamer's Chris Tapsell was intrigued by the game's story, so your mileage may vary.
Overall, it looks like there's plenty of high-speed dystopian fun to be had with "Rollerdrome."