Logitech Leak Allegedly Reveals Switch Competitor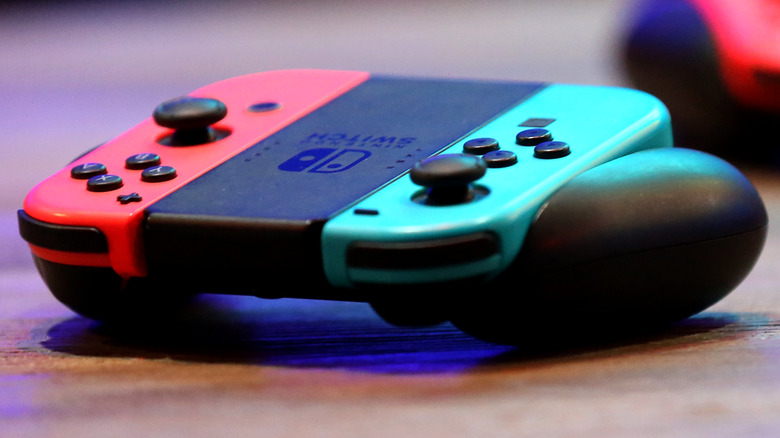 Gabe Ginsberg/Getty Images
At times, Nintendo does a great job of giving fans what they want. Finally adding the long-awaited feature to organize games within folders was a significant software update, but fans still clamored for a Switch Pro release. Unfortunately, whenever new Switch models are teased, it seems to crush fans' hopes and dreams when they learn it to be anything but a 4K-capable Nintendo console. 
Nintendo's prolonged silence on a more robust version of its console may bum out some fans, but other companies are taking steps to offer the powerful portable console Switch players have been asking for. Though Valve's portable PC machine, the Steam Deck, has already established itself as a Switch competitor, Logitech G and Tencent Games have joined forces to create an advanced cloud gaming handheld.
Initially announced at the beginning of August, details on this new piece of hardware have been relatively sparse other than its goal of supporting multiple cloud gaming services. However, thanks to a (now removed) leak from blogger Evan Blass, players had their first peek at the Logitech G portable console.
Cloud gaming on the go
Epic Games
While the leaks have been taken down from Blass' original Tweet, the internet is very good at making things reappear, and others saved Blass' Tweets on Imgur. One image offers a detailed look at the console's button layout, and it looks — for the most part — pretty similar to Nintendo's Switch. The D-pad, thumbsticks, share button, home button, and ABXY buttons are all positioned nearly identically, aside from the order ABXY is set. Additionally, two buttons are placed precisely where the Switch's "+" and "-" would be located. 
A shot from behind shows that the four shoulder buttons, and even what looks like the volume control, are practically a mirror image when compared to the Switch. The D-pad is arguably the most notable difference between this console and the Switch. On Logitech's device, it looks like a traditional, single-fixture cross rather than the Switch's four separate buttons.
The image featuring a possible look at the system's UI even shows off similarities to Switch. Of course, some notable differences include images suggesting Google Play, Chrome, Steam, NVIDIA, and Xbox apps will all run on the device. This matches up with the original announcement from Logitech G and Tencent, explaining that teams from Xbox Cloud Gaming and NVIDIA GeForce NOW were also working on the project. Time will tell if this is the final look for the device, but if it is, it should feel familiar to anyone with a Switch.