MrBeast Burger Is Taking Things To The Next Level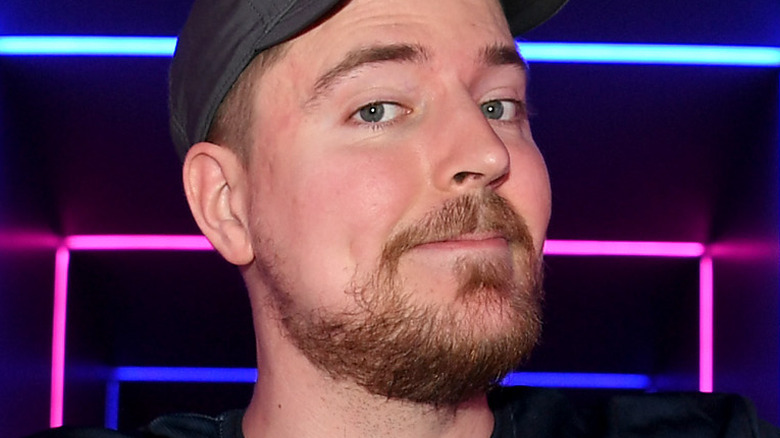 Denise Truscello/Getty Images
MrBeast has revealed that he is taking his fast food restaurant, MrBeast Burger, to the next level. MrBeast Burger started as a delivery-only restaurant, operating out of Ghost Kitchens. Basically, real, physical restaurants would make and fulfill MrBeast Burger orders, then send those orders out to customers. This venture has been successful, with MrBeast himself announcing in July that his burgers had generated over $100 million for the restaurants that fulfill the orders. The venture has been so successful that other content creators are getting in on the action, with the FaZe Clan opening FaZe Subs through DoorDash.
Advertisement
Like the YouTube videos MrBeast is known for, he is taking his business venture to the next level, opening up a physical MrBeast Burger location. Announced on Twitter, the first MrBeast Burger brick-and-mortar location will be in the American Dream Mall, located in East Rutherford, New Jersey. The location will be opening on September 4 and will be a permanent fixture of the mall moving forward. According to the FAQ on the MrBeast Burger website, there will be activities, challenges, and giveaways for fans waiting in line on opening day. MrBeast and his crew will be there for the grand opening as well, although he has shared a slight warning about the event.
MrBeast is expecting a massive crowd for opening day
MrBeast said that he and his crew will be present on opening day to greet the crowd, but after seeing the reaction to the announcement, MrBeast took to Twitter to make some clarifications. "Please be aware that if you come it will probably be a lot of waiting in line (like hours) and I can't guarantee we get you in that day. I also can't guarantee you'll meet me and the boys, we'll do our best but I just want to make sure I set realistic expectations," MrBeast said. He explained that based on the response to the announcement he expects over 20,000 people to show up for the grand opening, which is far more than the restaurant is capable of serving during a single day.
Advertisement
Some fans weren't happy with the follow-up tweet, stating that MrBeast was going back on his word that people would be able to meet him at the restaurant. Some said that spending all day in line would be worth the chance to have a quick conversation with the YouTube creator. The FAQ about the grand opening teases the possibility that MrBeast will be filming a YouTube video at the grand opening, so fans might also have a chance to be in his next video in addition to getting to meet the creator.