PlayStation 5's New Covers Didn't Get The Reaction Sony Hoped For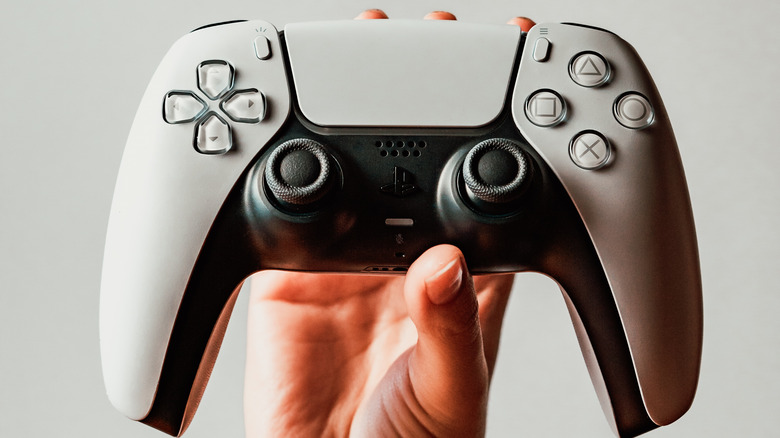 Pickaxe Media/Shutterstock
PlayStation has announced the next colorway for the PS5 and fans aren't impressed. Announced on the PlayStation Blog, the next wave of PS5 accessories is the Gray Camouflage series, which features a PS5 DualSense, console cover, and Pulse 3D wireless headset. "The PlayStation design team reimagined our camouflage pattern to reflect a fresher, more contemporary feel," VP of Brand, Hardware, and Peripherals at Sony Interactive Entertainment Isabelle Tomatis said in the blog post. Sony has previously released a number of solid color controllers and console covers, featuring black, red, blue, pink, and purple previously. The Gray Camouflage accessories will go on sale October 14. PlayStation has not announced a price for any of the new camouflage products.
The accessories, which gamers can see in the trailer released by PlayStation, feature a camo design with four different shades of gray. The sections with the lightest variant of gray feature the PlayStation face button symbols and the buttons themselves are all gray colored. One YouTube commenter pointed out the irony of PlayStation releasing a camouflage colorway while PS5 consoles are still hard to find for many people. Unfortunately for PlayStation, fans seem to be mixed on the new line of PS5 accessories.
Fans are mixed about the Gray Camo PS5 accessories
It seems like the gray camo color has split the PlayStation community, with some excited about the new colors and others unhappy with it. One person said that the camo design was ugly and another person declared "This is the ugliest thing I've ever seen" — which probably isn't the reaction PlayStation was hoping for. 
Not everyone was negative about the Gray Camouflage designs however, with a few different people saying they like the design of the controller and plan on picking one up in October. Other people said they really liked the camo designs for the PS4 DualShock controllers and are excited for these PS5 accessories.
Of course, some people took this announcement as an opportunity to pitch the specific colors and design options they want in the future. One of the top comments on the Reddit post discussing the new colors is someone asking for a green color option, something that was missing from the original run of solid colors. Another person commenting on the YouTube video said that PlayStation needs something equivalent to Xbox's controller design lab, which lets people customize controllers from a variety of options. For now, it seems like PS5 fans will have to wait until after October for more controller designs to be announced.