PS5 Finally Adds Way More Color Options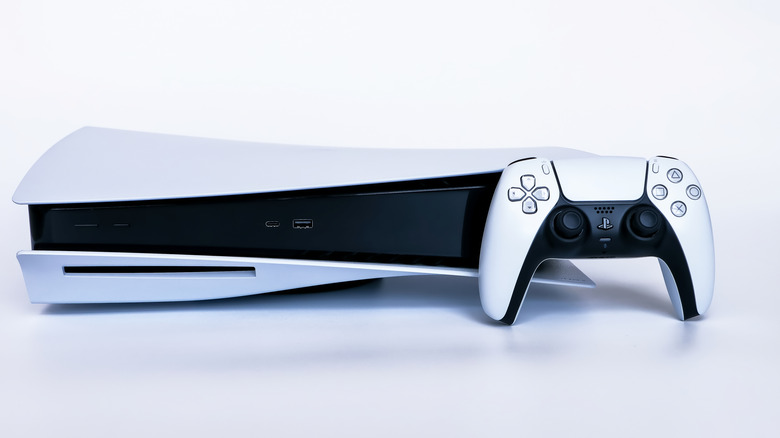 agencies/Shutterstock
Earlier in 2021, it seemed that Sony was finally getting in on the faceplate game with a patent to create its own decorative covers for the PS5. Fans began to have suspicions after Sony took an unusually lengthy amount of time to respond to faceplate maker Dbrand, which dared Sony to sue its supposedly air-tight design. In a PlayStation blog post, Sony has now revealed its own series of covers for both the PS5 and its DualSense controllers, and the designs are out of this world.
Advertisement
Sony explained that it will introduce several new faceplate covers in 2022, along with matching DualSense controllers. In January, Midnight Black and Cosmic Red covers will hit stores, with Nova Pink, Galactic Purple, and Starlight Blue arriving in the first half of the year. The faceplates will be able to drastically change the appearance of the PS5 with a simple snap, and will sell for around $54 (if purchased directly from Sony). However, fans seem even more excited for the new DualSense colors, and a few lucky gamers will be able to get their hands on them a little early.
Fans feel mixed on the new designs
Eager customers are able to preorder Sony's new faceplates and DualSense controllers directly from the company in order to receive them nearly a month early. For about $75, gamers can purchase a brightly colored DualSense and receive it on Jan. 14. Those who wait to get the accessories from other stores will have to wait until Feb. 11.
Advertisement
Some gamers still aren't satisfied with PlayStation's attempt to make the PS5 more colorful. One gamer commented that it took Sony too long to bring colors to the PS5, and that they'd already grown accustomed to the signature white faceplate. Others felt that Sony's price for the plates was simply too expensive for what is essentially two pieces of plastic, though it's certainly cheaper than purchasing a new PS5.
Many gamers are still unable to buy Sony's new console due to the ongoing supply chain shortage. PS5 fans got the worst news earlier in 2021, when Sony explained that there likely won't be new stock until 2022. It's unclear when new PS5s will be hitting shelves, but when they do, fans will be able to make them beautiful colors, at least.
Advertisement