Xbox Chat Is Getting This Much-Needed Overhaul
ALDECA studio/Shutterstock
Background noise, like a fan or voices in another room, can make it difficult for teammates to hear each other during co-op play — a problem that can typically be solved with noise suppression. Voice chat for Xbox Series X|S parties has lacked this major feature since release. As of the most recent OS update released on September 6, 2022, for Xbox Series X and S consoles, party members now have the option to enable noise suppression for their own voice. 
Noise suppression tech has already been implemented in several other voice chat apps like Discord, and Skype has had the feature automatically enabled for nearly a decade at this point. This simple addition that noticeably affects audio quality for teammates in Xbox voice chat, but unfortunately it's not possible to enable voice noise suppression for other players in Xbox chat. Noise suppression can also cut out quiet audio resulting from players whispering or being too far from the mic, so it may not be useful for everyone.
Here's how to access the new noise suppression functionality.
Noise suppression and cloud gaming enhancements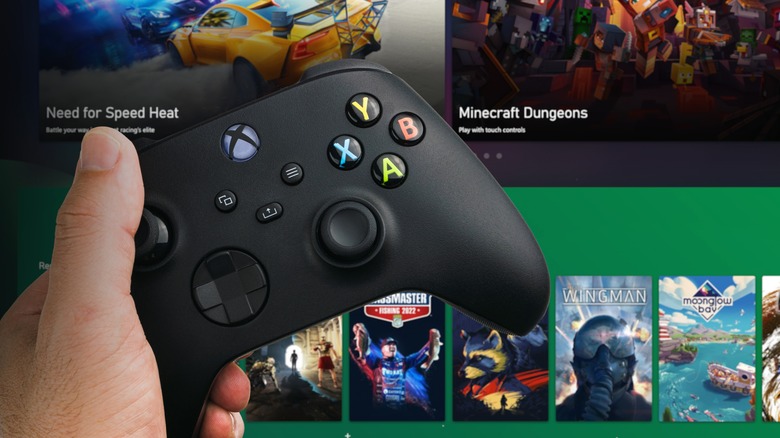 Diego Thomazini/Shutterstock
To enable noise suppression in Xbox party chat, open the guide, head to the Parties and Chats tab, and look for the noise suppression slider in the Options menu. The new feature is currently exclusive to Xbox Series X|S consoles, but there are plans to bring noise suppression to more devices later on.
Noise suppression is the main focus of this Xbox chat overhaul, but it comes alongside another helpful online feature that lets players launch games directly from clips and screenshots. This is tied to the Xbox cloud gaming system, which can be used to play Xbox exclusive titles remotely on PC and mobile devices. The update notes mention that "some games require Xbox Game Pass Ultimate for cloud gaming," the highest-tier Xbox Game Pass subscription. 
While noise suppression is only available for Xbox Series X|S owners, this new feature is available on all captures, and can be accessed from many devices with a Game Pass subscription. On each clip or screenshot featuring a cloud gaming enabled title, a "PLAY" button should be visible below the video or image. Simply click this button to play that game in-browser, on mobile devices, and of course on consoles.
This update marks the first major feature update since June 2022, which added the ability to reveal achievement details from the Game Activity menu.