Xbox Game Pass Friends And Family Plan Explained
For millions of gamers worldwide, the Xbox Game Pass has changed how they get their games. Instead of buying games individually, an Xbox Game Pass subscription gives gamers access to a catalog of hundreds of titles, including new releases on day one. The plan is also available on PC via the Xbox app, and offers exclusive titles such as Hideo Kojima's "Death Stranding."
Unsurprisingly, Xbox's competitors have noticed the popularity of the Game Pass, with its over 25 million subscribers (via Xbox). PlayStation, for example, has recently revamped its PlayStation Plus service to better compete with the Xbox Game Pass. Additionally, PlayStation has been accused of paying game developers not to put their games on the Xbox Game Pass.
Even with everything the Xbox Game Pass offers, it isn't perfect. For example, the Xbox Game Pass has been without a shared family plan since the beginning. Nintendo has had a family plan for some time via its Nintendo Online service. Rumors were floating around that Xbox could be taking a cue from Nintendo, but now that it's finally here, not everyone is fortunate enough to be granted access.
How does it work?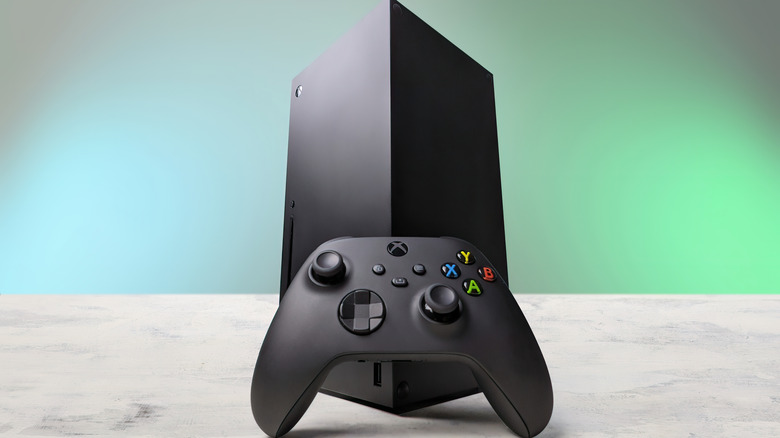 Mr.Mikla/Shutterstock
The Xbox Game Pass Friends and Family plan allows one person to share all their subscription benefits with four separate Xbox account holders at no cost to the additional members. Besides being much safer, this is better than password sharing because each player will get access to a separate library and Xbox account, allowing them to access multiplayer simultaneously.
Because Xbox Game Pass Friends and Family plan is technically the highest tier of the Game Pass, it comes with all of the benefits of the Xbox Game Pass Ultimate, in addition to being able to share with four other members. These benefits include EA Play, in-game content for select partnered games, access to Xbox Cloud gaming, and Xbox Live Gold. And because the primary account holder can invite anyone in the country to join their plan, it isn't restricted to family members residing in the same household like some other family plans. This makes it a great option for five friends that don't want to pay for individual accounts.
Who can sign up, and what does it cost?
Currently, the Xbox Game Pass Friends and Family plan is only available in Columbia and Ireland, but Xbox notes that future regions may be added in the coming months. Those residing in the eligible countries for participation can join via the Xbox Game Pass Friends and Family sign-up page – at a cost.
During its trial period, the Xbox Game Pass Friends and Family plan is 21.99 euros monthly in Ireland and 49,900 COP in Columbia. This makes the Xbox Game Pass Friends and Family plan an additional 10 euros more per month compared to Xbox Game Pass Ultimate. Although no information on US prices has been announced, it will likely follow a similar pricing structure.
Anyone upgrading from a current Xbox Game Pass, EA Play, or Xbox Live Gold account will automatically have their remaining plan period converted based on the chart listed on the Xbox Game Pass FAQ page. It's also worth noting that the membership cannot be shared with users outside the primary account holders' region. So, users in Columbia and Ireland looking to share their plan abroad are out of luck. Still, Xbox Game Pass Friends and Family is shaping up to be one of the best value plans on the market. And according to speculation based on recent leaks, there is much more to come for the Xbox Game Pass.