LilyPichu's Newest Voice Acting Gig Has Fans Going Wild
LilyPichu (a.k.a. Lily Ki) has had quite a summer. In July, the Offline TV member announced her decision to leave Twitch after 10 years in favor of YouTube Gaming. She joined a growing number of streamers on the platform who have made the switch from Twitch, including her friends Valkyrae, Sykkuno, and most recently Fuslie. Since her highly publicized defection to YouTube, LilyPichu has made even more waves, this time in the voice acting industry.
On September 6, LilyPichu confirmed on Twitter that she voiced a part in the Riot digital card game "Legends of Runeterra." The popular YouTuber lent her talents to Disciple of Doran, a character introduced as part of the recent "Awakening" expansion. The Follower has a unique interaction with Master Yi, a favorite "League of Legends" champion who also just made the jump to "Legends of Runeterra."
Known for her high-pitched voice, LilyPichu previously landed the role of Sayu in "Genshin Impact." Apparently, voicing a character in a title developed by Riot Games was a dream for the content creator. "I finally got to voice something for Riot," LilyPichu said in the tweet. The YouTuber's fans went wild after hearing the news and showered her with congratulations and praise.
LilyPichu fans react to her big voice acting gig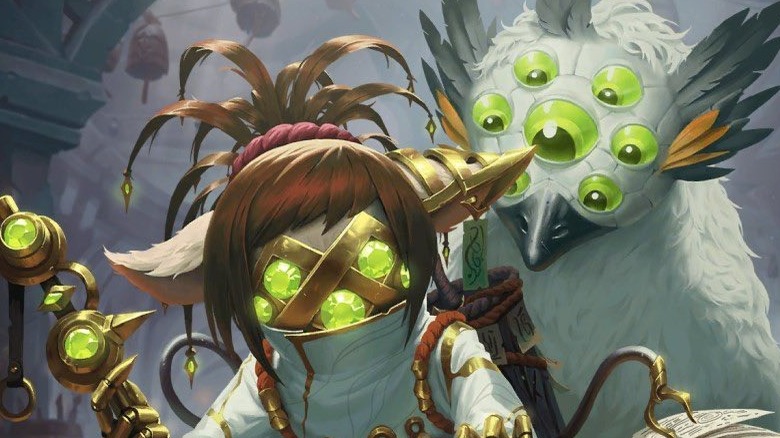 Riot Games
Many of LilyPichu's supporters and some familiar faces jumped in to offer some kind words to the YouTuber as a result of her landing a dream gig. Fellow OfflineTV member QuarterJade responded to LilyPichu's announcement, saying, "it has been a delight to watch some of your dreams come true." OfflineTV director and producer Brodin Plett even commented on the physical resemblance between Lily and Disciple of Doran.
Prior to LilyPichu's surprise announcement, some "Legends of Runeterra" fans on Reddit surmised that she was the voice behind the Disciple of Doran due to her distinct voice. This was repeated by other fans on Twitter. "I knew it," one commenter said. "When the skin spotlights video came out I didn't get it immediately, but the interaction with [Yi] about his helmet was when it hit me like a truck."
Overall, LilyPichu has over two minutes worth of dialogue in "Legends of Runeterra" as Disciple of Doran. An unaffiliated YouTube channel posted a video compilation of all of her lines in the game the day after she announced her role. LilyPichu's voice is pretty much unmistakable and it's clear why some fans weren't too surprised by her reveal.