Sykkuno Credits This Person For The Move From Twitch To YouTube
For as long as streaming has been a thing, Twitch has been the undisputed ruler within the space. Despite the occasional pop-up of a legitimate competitor such as Mixer, Twitch has outlasted its enemies and for a while has stood as the best and biggest option for gamers and online personalities to make a living through livestreaming. But Twitch also has a bit of a shady history and is hardly without its problems. Because of that, many upper echelon streamers on the platform have decided to cut ties with the organization and try their luck elsewhere. Among these high-profile streamers to make the move is Syykono.
Advertisement
Syykuno quickly made a name for himself on Twitch in the last few years by mixing it up with other popular streamers such as Valkyrae and Corpse Husband. Earlier this year, he ended a Twitch stream with a rather heartfelt message to his fans that led to speculation that he might be leaving Twitch or the streaming life altogether. Eventually, it would be revealed that Syykuno would indeed be moving on from Twitch in favor of joining YouTube Gaming as a full-time streamer. Sykkuno isn't the first major streamer to trade Twitch for YouTube, and he seems to credit one person in particular with helping him make this huge career decision.
Syykuno credits Ludwig for the mass move to YouTube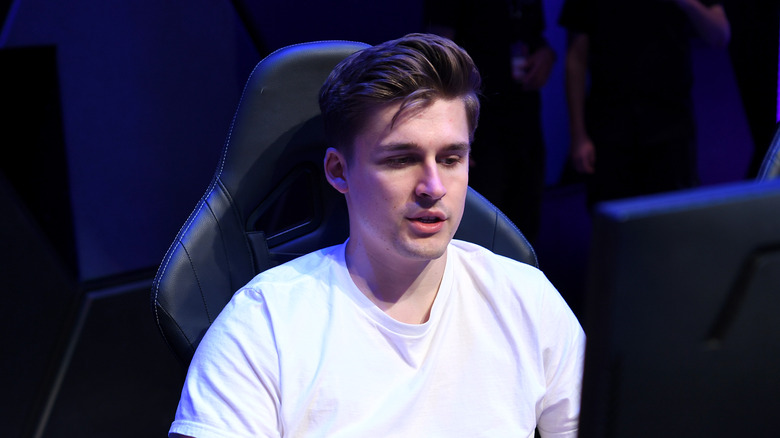 Denise Truscello/Getty Images
In November 2021, Twitch star Ludwig announced that he was leaving Twitch for YouTube. The move came as a complete shock, particularly given his success on Twitch — according to The Verge, he'd amassed 3.1 million followers in his six years spent on the platform. However, Ludwig claimed that Twitch didn't seem to care about him, despite being among its most popular figures. And according to Syykuno, Ludwig's bold move gave him the courage to make the switch as well.
Advertisement
"Everyone looks up to Ludwig," Syykuno said on a recent stream. "You know, he went [to YouTube] before me. And him going made me feel more comfortable. And then me and him both going probably made more people feel more comfortable." Syykuno would go only to explain that YouTube's ability to obtain Ludwig as an exclusive client was probably the best way to prove that the platform is viable competition to Twitch. Because of the high-profile moves involving Ludwig and Syykuno — not to mention other major movers like DrLupo and TimTheTatman — it seems to only be a matter of time before others follow in their footsteps.