Cyberpunk 2077 DLC Plans Didn't Get The Reaction CDPR Hoped For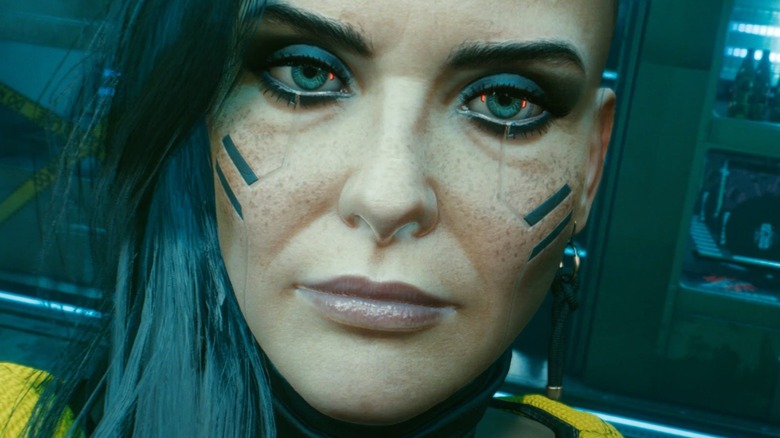 CD Projekt Red
"Cyberpunk 2077" has come a long way. When CD Projekt Red's action RPG hit shelves back in 2020, it was a buggy mess that disappointed almost everyone that downloaded it. But slowly but surely, CD Projekt Red has rolled out fixes and free DLC content in an effort to make the up-to-date version of "Cyberpunk 2077" closer to the game fans expected on launch day. But that's not all. The world of "Cyberpunk 2077" is also being expanded via a Netflix animated series and the game's first full expansion.
This upcoming story-based paid expansion, "Phantom Liberty," will launch sometime in 2023. A paid expansion coming to "Cyberpunk 2077" is something that fans have speculated was in the works at CD Projekt Red for some time now, despite the game's disastrous launch. But what has come as a surprise to many is that according to CD Projekt Red, "Phantom Liberty" may be the only expansion for "Cyberpunk 2077." Fans, unsurprisingly, are disappointed to hear that "Cyberpunk 2077" might only be getting one expansion.
Fans want multiple expansions
The comment section of the recent "Cyberpunk 2077: Phantom Liberty" teaser was full of gamers excited about the upcoming expansion. And in response to one of these comments, the official "Cyberpunk 2077" YouTube account wrote, "Glad to hear we sparked your interest!" But it also followed up with, "As for the future, Phantom Liberty is the only planned expansion for Cyberpunk 2077." This wasn't the first time CD Projekt Red hinted at ending its content stream for "Cyberpunk 2077." The team previously mentioned that the "Phantom Liberty" expansion would be the last project it develops on the RED Engine as it transitions to Unreal Engine 5 for "Witcher 4" (via GamesRadar+).
Still, fans were stunned and disappointed by the news, especially considering CD Projekt Red's previous title, "Witcher 3," famously featured two lengthy expansions. For example, one user wrote that it was a "major disappointment and disservice to both the franchise and the loyal fans" to only release one expansion. Additionally, many noted how much they love CD Projekt Red DLC and were looking forward to multiple expansions for "Cyberpunk 2077." Finally, some expressed concern that V's storyline would never get resolved.
Of course, despite the developers reporting otherwise, there's always a chance "Cyberpunk 2077" will get a second expansion. But for the time being, gamers can enjoy the latest "Cyberpunk 2077" patch and prepare for "Phantom Liberty" when it launches in 2023.