Valkyrae's Greatest Regret Is Not What You'd Expect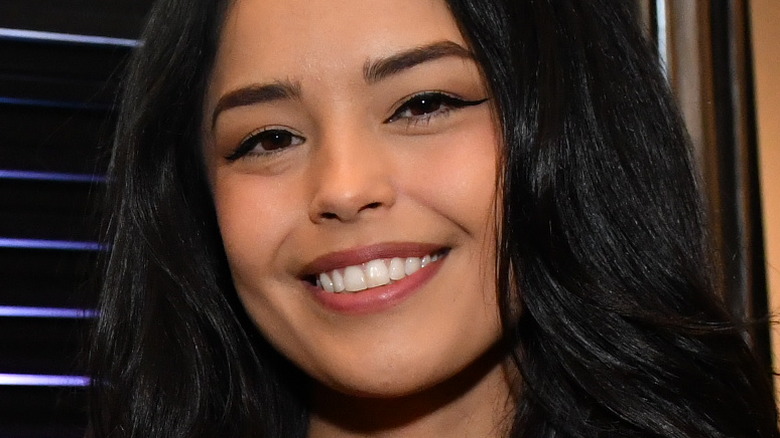 Craig Barritt/Getty Images
Rachell Hofstetter, better known as Valkyrae, has many things to be proud of. She's one of the first women to co-own an esports organization, and she's earned over 3.5 million subscribers on YouTube, her streaming platform of choice. In other words, Valkyrae's career is going well, and she's worked hard to get there. Despite her massive success, Valkyrae still has her regrets – as anyone might. She opened up about one sensitive topic during a recent episode of the "100 Thieves Cast," an interview series that focuses on the esports organization.
After telling some fun embarrassing stories and celebrating her new billboard in Times Square, Valkyrae settled in to share one of the biggest regrets in her career. In a rare moment of vulnerability, Rae opened up about her personal life, admitting that one thing she wishes she'd done differently involved dating.
Valkyrae has talked about personal relationships before, but typically only in vague terms. She previously admitted that she doesn't use dating apps because she's scared someone will recognize her and want to date her for all the wrong reasons. She shared that she's happy being single for now, and that she's been in bad relationships in the past that have held her back both emotionally and professionally. While she didn't go into much detail in the past, Valkyrae's latest interview has shed a bit more light on her dating history, as well as why she might be wary to jump back into a relationship anytime soon.
Valkyrae has one major regret
When asked about her biggest professional regret, Valkyrae had a ready answer. While some viewers might have anticipated that Rae would say she wished her tragic RFLCT scandal went a different way, the streamer didn't focus on her failed skincare line. Instead, she pointed to one specific relationship in her past that made her feel bad about herself and her growing popularity online.
"My biggest regret – just the first thing I thought of, of course – is probably staying in a really toxic relationship throughout my career," she said, pausing to put her head in her hands for added effect. "And seeing it get more and more toxic and not having the strength to leave sooner."
Valkyrae said that she often wonders what her career – and life in general – might look like if she didn't spend so much time worrying about what another person thought. If she had been single, she said, she wouldn't have had to hear the comparisons her significant other made between her and other streamers, and she wouldn't have had to worry about her overprotective ex attempting to hold her back from collaborations and friendships with other men. She explained that collaborations are an especially important part of the streaming industry, and that connections with other content creators can make or break one's career. But what happened in Rae's relationship specifically?
She isn't sharing just yet. "I really wish I could share ... you know, maybe someday! Let's do this podcast in 80 years and we'll talk about all the details!" Rae exclaimed. She explained that it was difficult at the time to understand how her relationship looked to other people. The biggest problem, she considered, was under her nose the whole time.
But it's not all bad
Valkyrae has a better perspective now that she's had time away from her toxic relationship. "The biggest red flag now, looking back, is the fact that none of my friends and none of my family approved," she said. "And like, they would try and it just wasn't working. When you're in love and you're used to the comfort, and for me, codependency ... it just overrode all that." The situation was clearly painful for Valkyrae, and she moved on from the topic quickly.
Even though she regretted one relationship, Valkyrae has plenty of fond memories of exes, too. When she worked at GameStop, Rae briefly dated a coworker that soon realized he was gay and broke off their relationship. Years later, the coworker saw Valkyrae mention the topic on stream and messaged her, saying he was happy and found the situation hilarious. Valkyrae also seemed to think fondly on the experience, but a little embarassed at how it all went down.
In her talk on "100 Thieves Cast," Rae shared that she's excited for her future. She revealed that she has a voice acting project that will be released soon, but that she can't share more about it just yet, no matter how much she wants to. Ultimately, Valkyrae isn't sure what the future holds, but surely fans will follow her no matter what she decides.