This Advertisement May Have Spoiled Microsoft's New Xbox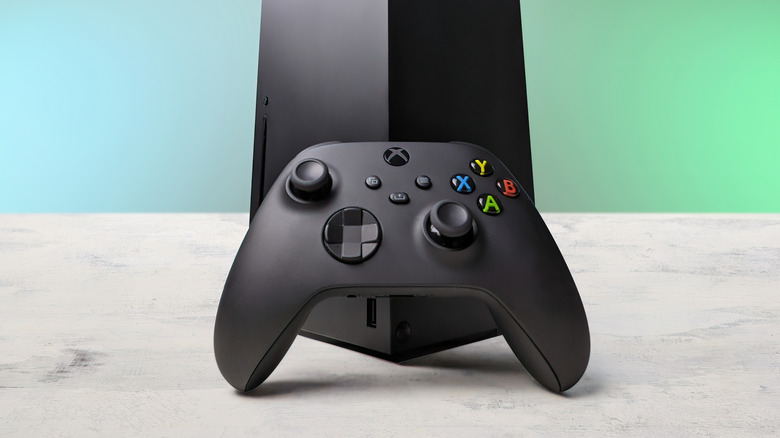 Mr.Mikla/Shutterstock
Accidents happen, but accidents that reveal yet-to-be-announced products don't happen very often. Sometimes information about upcoming releases is accidentally made public via leaks, like what happened with the Nvidia leaks at the beginning of 2022. Other times, upcoming releases have been spoiled by third-party resellers updating their listings too early, like what happened with Walmart Canada in 2018 (via Gamebyte). Leaks aren't always correct, though – the Nvidia leaks supposedly confirmed a "Bayonetta 3" PC port and the Walmart Canada reveals got the release of "Death Stranding" wrong. It's rare when a piece of hardware gets revealed via an accidental leak, but that's what appears to have happened in a recent headphones advertisement.
Astro Gaming, a gaming headphone brand under the Logitech company umbrella, revealed its new Astro A30 wireless headset in a snazzy, tech-forward ad released Sept. 21, 2022. At about 14 seconds into the video, what appears to be a white variation of the Xbox Series X is casually displayed on a shelf for a fraction of a second. Originally reported by VCG, this unrevealed white variation of the Xbox Series X appears behind an actress wearing the Astro A30 headphones among a variety of white consoles and gaming-adjacent gear, like the PS5 and Meta Quest VR set. 
A white variation of the Xbox Series X has not been announced yet
Though the console is obviously white to fit in with these other background items, a white variation of the console has not been announced by Microsoft, and there aren't any reputable leaks that hinted at its existence in the past, either. The Xbox Series S, sister console to the Series X, only comes in a white variation. However, the only version of the Series X that comes close to this white coloration is the ultra-rare Lacoste x Minecraft variation – and good luck getting your hands on the singular copy of that Series X.
The only non-special-edition color available for the Xbox Series X is black, though Microsoft has never said that a white version of the Series X would never be made. Logitech, which owns the Astro Gaming brand, has released unique console variations in the past, such as the Xbox One Logitech variation. Like the Lacoste x Minecraft collaboration, though, this was a one-time variation. There is nothing that currently confirms that this white variation of the Xbox Series X will ever see a mass market release, but its mere existence in this advertisement has Xbox fans on the edge of their seats. Now, it's up to Microsoft to confirm or deny that this huge reveal of a new Series X variation features a real product.