Metal: Hellsinger's Latest Update Makes One Popular Mod A Reality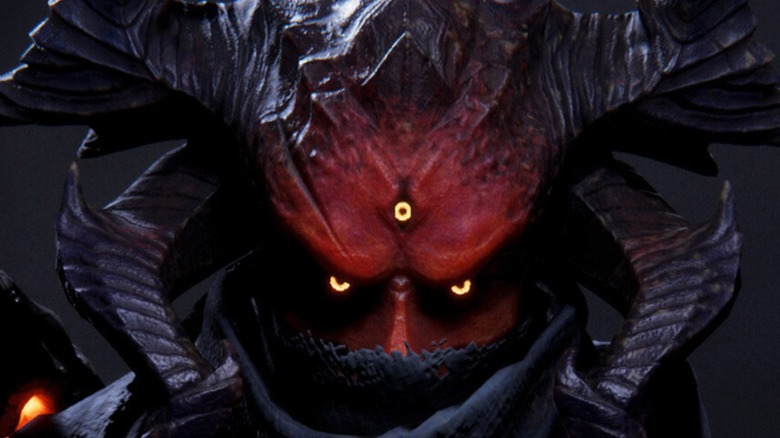 Funcom
Battling across the eight realms of Hell is hard work, but it's a lot easier to keep a steady rhythm if you've got some rockin' tracks to listen to while slaying the unholy hoards. This is one of the key features that early critics said makes the rhythm-based FPS action game "Metal: Hellsinger" stand out from other indie titles, even if the campaign is a bit short. Of course, you can't have a good rhythm game without a solid soundtrack, and "Metal: Hellsinger" has a great one, with face-melting rock ballads featuring artists from metal bands such as "Dark Tranquility," "Arch Enemy," "Trivium," "Lamb of God," and "System of a Down." But like the proverbial tape stuck in the car stereo, even the best soundtrack in the world can start to get old if you listen to it enough times.
The game's developer, The Outsiders, knew that this would be a problem eventually, and so the team decided to give fans an official mod that gives fans the tools they need to add custom music to the game. That way they can set out to face the Red Judge with all of the action-packed combat set to whatever genre of music they prefer.
Slaying demons to disco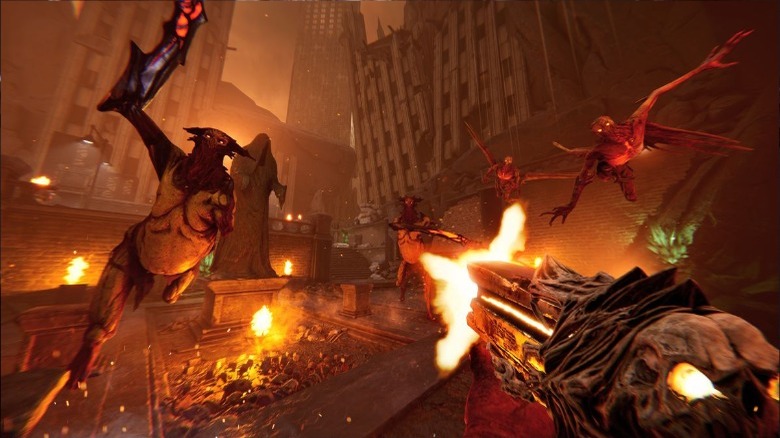 Funcom
The Outsiders have created a page on the official "Metal: Hellsinger" website giving fans more information about the mod. "For the willing player," the page states, ""Metal:Hellsinger" can now become K-Pop, country, EDM, disco, classical, rap, reggae – the list goes on! Modder-musicians are invited to push the boundaries of good demon-slaying motivation." The page then goes on to describe what players need to do in order to implement the mod.
They first need to have the game downloaded, either through Steam or Xbox Game Pass, then they have to download FMOD Studio 2.00.08 after creating an account on FMOD.com. After that, they must download the MHS package. Then, they can start modding! There is a PDF with instructions on how to mod music into the game and publisher Funcom has posted a tutorial on its YouTube page for those who prefer to learn via video.
Players won't necessarily be able to jam their favorite song into any given level, however. There are some limitations on what music can be modded into "Metal: Hellsinger." For one thing, the track needs to have a fixed tempo in order to work. Music with variable BPMs won't function correctly since they won't be able to match up with the tempo of the game. Perspective modders need to know the BPM of the song they are uploading as well so that they can implement it while creating the mod.